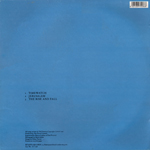 The EP comes in a simple cardboard sleeve. The front features the artwork with the titles, while the back is plain blue and features the tracklisting. A bar
code is also printed and some credits are to be found. The credits are a bit strange, because they don't even include the band member's names, just the additional personnel. Finally Setanta's address is printed, but they didn't even print their own logo.
The labels are more interresting: in addition to the usual information (side letter, cat. no., speed and song names), they also features artwork elements.
Near the label are etched:
MPO SET 008 A1
on A side; and
MPO SET 008 B1
on B-side.
A white label of the EP exist, it comes with 2 plain white labels, no writings.
We ignore if just a white label was produced as a test-print, or if a Mayking Records test-print also exists as it does for
Fanfare
and
Europop
.
The record was accompanied by a press release from Revolver Distribution warning the music style would be less pop than other Setanta acts.