In late 2003 a couple of tribute compilations to Jacques Brel were announced to be released. One called
Aux Suivants
(released sept. 2003) focuses on French artists covering Jacques Brel; and the other called
Next
focuses on english cover versions of Jacques Brel. Both have similar artworks with a card board deisgned background (Jacques Brel's father had a paste-board manufactory) with black and red letters and a picture of the artist replicated thrice.
The English version of the compilation,
Next
features covers of his songs by artists such as Scott Walker ('Mathilde', 'The Girls And The Dogs'), David Bowie ('Amsterdam'), Gavin Friday ('Next'), Marc Almond ('Litany For A Return'), Nina Simone ('The Desperate Ones') and The Divine Comedy of course with '
Jackie
'.
Inside the booklet, the liner notes says: "Just like his predecessors Bowie and Marc Almond, Neil Hannon, the frail-looking frontman of the Irish group Divine Comedy, was 'introduced' to Brel via the ambassadorship of Scott Walker.
Jackie
, his version of Brel's
La chanson de Jacky
, has only ever appeared on the B side of their 1999 cassette single
The Pop Singer's Fear Of The Pollen Count
. However, it has been one of their stage classics for the past 10 years." It is actually the only exclusive cassette B-side to have been subsequently released on CD.

More interesting, the detailed tracklisting gives copyright info about the song and while it mentions the original
Pop Singer's Fear…
single released by
Setanta Records
in 1999; the copyright of the song is
Divine Comedy Records
. That was in early 2004, so one year before their official announcement of them owning the back catalogue.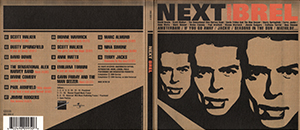 The compilation was released by Barclay as a digipak in February 2004 in France, and the next month in UK. It seems that the next year a jewel box version was also released.
A Barclay promo of the album exists. It comes within a PVC sleeve and a white sheet with the title and logo on it. Even so, it is said another promo with the album artwork also exists.
Additionally, the compilation was also released in 2005 in the US by DRG Records. That version also comes within a jewel box.