The Divine Cabaret was a tribute show held in Australia by comedians Geraldine Quinn, Mark Jones and Karlis Zaid. Originally an idea from long-term Divine Comedy fan,
Geraldine Quinn
who is known in both domains: music and comedy. She has performed with acts such as Tim Minchin, or DC's 2004 pianist Danny Sheridan with whom she played a cover of '
Our Mutual Friend
' at the Edinburgh Fringe festival in 2005.
This show was made as a chance for the Australian Divine Comedy fans to see some of the songs live as The Divine Comedy never toured there. Here is what the press release of the show said: "Hear Hannon as you've never heard him. Hear Hannon because you've never heard him. Whether a hardcore fan or a Divine Comedy innocent, The Divine Cabaret is a sexy, hilarious and beautiful night of songs from three of the country's finest performers. You don't want to die a virgin." [1] But we don't know much more about the show except that is was made of cover versions and narrative speeches between the songs, one of the songs being '
Thrillseeker
' [2]. It received positive reviews from the Adelaide Advertiser and the Sunday Mail.
The show was performed only a few times in 2010:
At the Adelaide Festival on 16th and 17th June 2010 (Space Theatre)
At the Melbourne Fringe Festival between the 22nd September and 26th September (Old Council Chambers at the Victorian Trades Hall)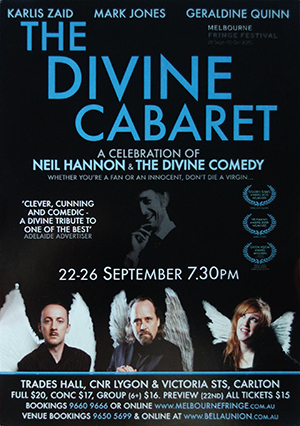 No plans about new performances or release of the shows are planned for the moment.
[1] The Divine Cabaret – Melbourne Fringe Festival
[2] The Divine Cabaret review on artsHub