At the time of the promo for
the EP
, Setanta printed some T-shirts that may have been sold to who bought the CD or went to the concerts.
The T-shirt is blue with the same logo as the front cover of the disc, except there is no the title Europop in the middle, instead it is printed on the back.
Two models exist, one with long sleeves (above), and one with short sleevess. That one can be actually spotted on a Frank & Walters video from those days!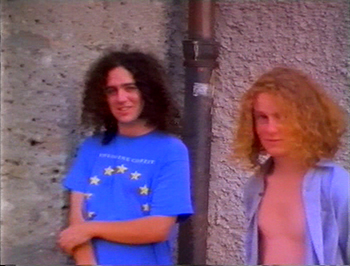 However it seems that some fans printed their own T-shirts and sometimes sold them on eBay. So, it's hard to find out if a T-shirt is a genuine or a fake.
Below may be a photo of a fake T-shirt. You can see that the typeface is not really the same as the CD.