Being a flexi disc this release is one of the oddest items of The Divine Comedy's discography.
To promote The Glee Club and The Divine Comedy playing both at L'Autre Festival, in Orléans, France, in October 1993, Setanta released and distributed this promotional flexi with an early issue (#6, September 1993) of French magazine New Comer (also based in Orléans) attached to festival advert on the last cover page. However, it is likely that Setanta Records made it available by mail order along with
Lucy
and
Indulgence No. 1
. The record was also available with Spanish magazine Spiral (December 1993)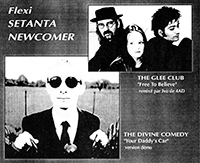 The 7" features two rare (at that time) tracks by those artists: a remix of a Glee Club song by par Ivo Watts-Russel (4AD label's boss), and a demo of '
Your Daddy's Car
' back to 1992.
This version of '
Your Daddy's Car
' has for a long time been a subject of interest because of its different lyrics and the presence of John Allen with Neil Hannon on vocals. It was finally made available on CD with
Rarities
in 1999.
The two songs are on 33RPM A-side (there is no B-side), and we can read on the disc:
CAO 009 - A