The Divine Comedy is Neil Hannon.
He writes his own music and lyrics, sings, plays the guitar and the piano and produces most of his albums.
Yet, before The Divine Comedy, Neil Hannon used to lead a high school rock band, which, after many comings and goings, changed its name into The Divine Comedy. That was 1989. Neil had long hair, was dressed in denim and listened to U2 and R.E.M. and Ride. At that time, The Divine Comedy was a band made of 3, and then 4, Northern Irish mates. But the comings and goings went on, and in 1992, after only one album, The Divine Comedy ceased to be.
One year and a half later, in September 1993, Neil Hannon had his hair cut, bought a suit and a tie and took up the name The Divine Comedy to release
Liberation
. From that time on, The Divine Comedy was to be a concept led by one man, though sometimes involving many musicians.
In 1996, the single
Something For The Weekend
, taken from the album
Casanova
, unexpectedly raised The Divine Comedy up into the British charts. At the time, Neil had already met
Joby Talbot
, who was also to benefit this success.
The turn of the century – and of the millennium – was a period of transition for The Divine Comedy, who left
Setanta Records
, an Irish indie label, for Parlophone (Blur, Radiohead, Coldplay…). Neil also changed his style again and resumed wearing jeans and long hair. Yet, the experiment wasn't a lucky one and the musicians had to be fired for The Divine Comedy was broke: the
Regeneration
album hadn't sold as much as expected.
Neil then decided to resort to his old wardrobe and to wear suits again. In 2005, he set up his own label: Divine Comedy Records. After a couple of records on Parlophone,
Absent Friends
and
Victory For The Comic Muse
albums, Neil Hannon decided to become a entirely independent musician. Nowadays, Neil Hannon still lead The Divine Comedy while he is not busy with his other band
The Duckworth Lewis Method
, or working on commissioned drama works.
Childhood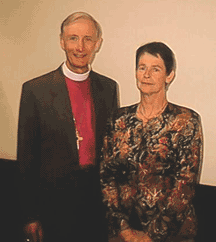 Neil Hannon's parents
Edward Neil Hannon was born in Londonderry, Northern Ireland, on November 7th 1970. He's the third son of Rev. Brian Hannon, of the Church of Ireland. As a consequence, Neil grew up in a religious background, in a place where religion has always been a major issue.
We don't know much about his family, except that his father transmitted him a taste for music, that his mother taught him to love horses and dogs, and that he has two elder brothers: Desmond and Brendan.
Neil Hannon started learning the piano when he was 7, because he'd tried to play on the family grand piano with a hammer, which had ended in him having to pay for the damages. At the end of the first lesson, his teacher said: "Neil has a great ear but very little motivation" [1]. During his childhood and in his teens, Neil was a choirboy at his father's church.
He went to the local primary school, where he spent more time drawing dinosaurs than listening to the teacher. [2] He nonetheless managed to pass his Eleven+ and by the time he was to enter secondary school he'd already written his first song: '
Digital Watch
'. The Hannons having had to move following Rev. Hannon's promotion as Bishop of Enniskillen in 1981, the school he went to was the Portora Royal School, located in Enniskillen, Co. Fermanagh, where Oscar Wilde and Samuel Beckett had gone.
In June 1989, Neil failed his A-Levels, because he preferred to go and see R.E.M. live in Dublin the night before, following his history teacher's advice: "You've got to choose between music and academic study" [3].
October (1984-1989)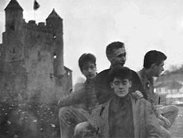 Neil Hannon's first band was created in 1984, but didn't have name at that time. He was 13 and his interest in music was increasing thanks to his brothers who made him discover Electric Light Orchestra. He invested in a couple of tape-recorders as well as his first guitar, "a really crap guitar" according to him [4], and gave up piano lessons. He was taught his first chords by
Lawrence Hoy
, a friend of his with whom he decided to form a band. As they needed musicians, they put an announcement on the school notice board. It read: "Starting a band, anyone with their own instruments, get in touch!"
David Graham
saw it and arranged to meet them to enter as a bassist. From that day on, the rehearsals took place in Neil's attic room at the Rectory in Enniskillen, until 1986 when the Hannons moved to Fivemiletown. The rehearsals then took place in the front room.
The band wasn't named until 1986, when they played their
first gig, in the Rectory's front room
in Enniskillen, a weekend when Neil's parents were out. The name given to their band was
October
, after U2's album. That same year,
Darren Flanagan
joined the band to play keyboards, but he left in December 1987, after the release of their first EP,
October 1st
. They recorded it in automn 1987, in Belfast, just after they'd bought their first drum machine. Meanwhile, the four of them attended their first concert: U2 in Dublin.
Early 1989, even though Neil and Lawrence were alone, David having left for university, they released their first album:
Exposition
. They sent a copy to Hot Press magazine and won a place in the finals of the
Hot Press/Carling Band of '89, in Cork
. They had to call David back from university for the concert. They arrived second in the competition.
Fanfare For The Comic Muse

(1989-1992)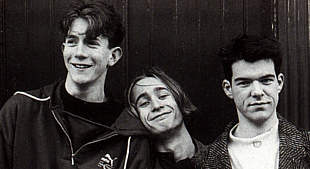 After the
live in Cork
– during which their drum machine nearly fell off the stage – Neil decided to look for a drummer during the summer of 1989. He eventually found
Kevin Traynor
who introduced a friend of his,
John McCullagh
, who was to replace
David Graham
on bass. The new band was called The Cherry Orchard, probably after Chekhov's play. They also got a manager who suggested them to record and send a demo tape to various record companies.
A few months after,
Lawrence Hoy
decided to leave the band and Neil changed again the name of the band, this time after a book he'd seen on his father's bookshelf: Dante Alighieri's
Divine Comedy
.
The band gave a few concert in various clubs in Ireland, and was soon noticed by DJ Johnny Hero, who was so impressed he played them on his Monday night rock programme and
invited them for an interview
, soon after they were also invited by the legendary Dave Fanning on RTE radio.
In November 1989,
Setanta Records
, an Irish indie label based in London, (The Frank & Walters, A House, Brian…) received their demo. Even though
Keith Cullen
didn't like their music, his girlfriend did and insisted that he gave them a go. [3] In January 1990, Neil Hannon signed to
Setanta Records
.
Fanfare For The Comic Muse
was released in the following April. It was produced by
John O'Neill
(The Undertones), whose Tottenham flat they rented when they settled in London to promote the album.
In October 1991,
John Allen
, a friend of Neil, joined the band as a singer and Neil got the opportunity to improve his guitar playing. At that time, they released the
Timewatch
EP and gave a few gigs in London, supporting My Bloody Valentine and then Suede when
Europop
(EP produced by
Edwyn Collins
) was released, in 1992. But soon after,
Kevin Traynor
and
John McCullagh
left the band because of artistic differences and resumed their studies. Neil Hannon and
John Allen
had no other way but to go back to Fivemilletown, with the material for a new album on which the band had started working.
Liberation

and

Promenade

(1993-1994)

Back in Enniskillen, Neil locked himself up in his attic room, where he spent his nights writing what will become

Liberation

and

Promenade

. He would sometimes get out of his cave to watch an old French movie or a cricket match.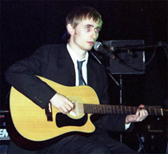 In September 1993, still signed to Setanta, The Divine Comedy released his first proper album,
Liberation
. Neil has kept the name because it suited the new sound oh his music. Similarly, he adopted a sober style, had his hair cut, put on a suit and bought a pair of dark glasses. Hannon was then a shy, romantic, learned and posh young man. Looking back on this shift in orientation, he said: "I was very interested in the purity of three chords and all that but I was lured away by polyphonic harmony." The Divine Comedy of that time was mainly inspired by James Ivory's film
A Room With A View
, adapted from the novel by E.M. Forster. Neil said about this: "When I saw the Merchant-Ivory movie
A Room With A View
, E.M. Forster changed my life beyond all recognition, really. Without
A Room With A View
I'd probably never have written anything I've written. After seeing the film I read everything by Forster. I threw off the shackles of indie-pop and I was able to write music. It was a 'Liberation' by name and nature." [5] Indeed Neil claimed himself to be musically more Scott Walker or Michael Nyman than the indie scene.
Although the critics were highly positive, the album remained quite unknown to the British audience – it sold only 400 copies [6]. Nevertheless, a beam of hope could be seen in France, where music magazine
Les Inrockuptibles
supported The Divine Comedy in so far as to give him the opportunity of
a concert in La Cigale, Paris
. Neil told
NME
: "I remember the day they told me they were packing it in. I had to stop myself from jumping in the air with utter joy." [6] This made a change from the small gigs Neil was used to give. The success of the gig encouraged Neil to tour in France.
A few months later, in February 1994,
Promenade
was released. 10,000 copies were sold at that time [7]. The album was produced by
Darren Allison
, who also produced the following album
Casanova
. At the same time, Neil was asked by
Graham Linehan
to compose the music for the Irish sitcom
Father Ted
that he was producing with
Arthur Mathews
. The theme music will later be re-recorded as '
Songs of Love
'.
The creation of a band (1994-1996)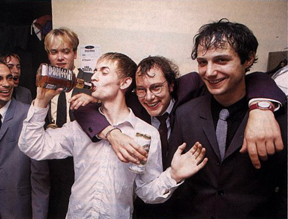 During the recording of
Promenade
, Neil was looking for someone who could play the saxophone and the oboe.
Chris Worsey
, who had been playing cello for The Divine Comedy since the
Liberation
tour, advised him
Joby Talbot
. They met in a London pub. Neil remembers this first meeting: "I thought, who is this strange, hulking fellow whose repartee is so astonishingly diverse? He was 22 when I met him, but he could hold a table of eight enthralled with these strange stories." [8]
In 1994, as he was supporting Tori Amos,
Maya Gabrielle
spotted Neil and became his manager [1]. In the summer, the band played at the Edinburgh Festival. Neil had an old school friend living there at the time,
Bryan Mills
. Neil phoned him and they went to the pub and had a couple of pints. Shortly after this meeting, he decided to call Neil back and offered to play the bass for him, though he'd never played that instrument [9].
Ivor Talbot
, a friend of Bryan's who always played with him, was hired as Neil's roadie before entering as a guitarist in 1996. Ivor was born on June 19th 1972 in Northern Ireland and also went to the Portora Royal School. By the way, Ivor and Joby aren't relatives. Joby being a Londoner and Ivor Northern Irish it's a mere coincidence if their surnames are the same.
That same year, Joby also introduced to Neil, his flatmate,
Stuart 'Pinkie' Bates
, who entered the band as an organist. He was born in Orpington, on September 19th 1967. His nickname comes from The Divine Comedy's
tour manager
because he was wearing during rehearsal a red T-shirt while everyone else was wearing pale colours. The band appeared together on stage for the first time in October 1994, during a
live in Paris at the Théâtre de la Ville
.
Although all tended to promise a new album for the beginning of 1995, nothing occurred. Indeed, Neil froze on the lyrics of his album and didn't manage to finish it. He was even thinking of stopping his carrier [10]. It's only some time in 1995, during an interview with Björk, set up one more time by Les Inrockuptibles, that she knew to give him faith again. Long recording sessions followed which allowed, thanks to the success of Edwyn Collins'
Gorgeous George
, the participation of the
Brunel Ensemble
.
In February 1996, when the recording was finished, The Divine Comedy supported Supergrass. Some time later,
Grant Gordon
, their drummer, broke his arm playing football and Neil, after looking for a new one, eventually found
Miguel Barradas
, who is a Venezuelan origin and used to play for groove-heavy bands before Neil "opened his eyes" to pop music.
The Brit-Pop era (1996-2002)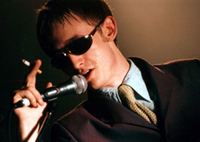 The Divine Comedy entered his golden age in April 1996, when
Casanova
was released. This may be because Neil transformed into the eponymous character of the album. He became less polished, although still very romantic, and more accessible.
In June 1996,
Chris Evans
discovered
Something For The Weekend
, the first single taken from the album, at a friend's. On the following Monday, during his Radio One broadcast, as he couldn't find the CD, he phoned his friend and the song was played for the first time on the radio via the phone. It quickly became his Breakfast Biggie. Then Evans invited Neil to his TFI Friday show. Not long after, Neil fulfilled his childhood dream by playing in Top Of The Pops. From the 10000 sold in April, the album reached 60000 in some six months.
Fame opened The Divine Comedy the door to bigger gigs, such as the
Reading Festival
, or the
Shepherds Bush Empire, in London, in October 1996
, during the rehearsal of which
A Short Album About Love
was recorded with the
Brunel Ensemble
.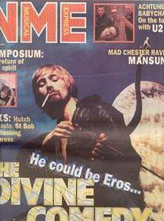 At the end of the year, the the band is full of ambitions, and set up their own management unit, the
Divine Management
. In November 1996, The Divine Comedy decided to go and conquer the US. For the occasion, Neil gave a lot of interviews, a couple of gigs and his picture was taken more than once. He even started to grow a beard, maybe as part of his plan of seduction as a crooner and womaniser.
On February 14th 1997,
A Short Album About Love
was released, after which the band set on a European tour with a 30 piece orchestra. At the end of one of the shows in London, Neil met
Michael Nyman
and
Hilary Summers
. Following to this, they worked together: The Divine Comedy played two nights at the Edinburgh Festival with the Michael Nyman Band and were awarded the Edinburgh Festival's Critics Choice.
During the summertime, The Divine Comedy supported Radiohead in Germany. In the fall, they headed on a new conquest: Japan. Then end of this busy year was marked by the arrival of a new musician:
Rob Farrer
, on percussions. He had already been playing for The Divine Comedy as he was of the
Brunel Ensemble
.

The next year saw the release of
Fin De Siècle
, produced by
Jon Jacobs
, who had already worked on
A Short Album About Love
. A hundred of musicians played for the album: the
Brunel Ensemble
, the
Crouch End Festival
,
Hilary Summers
and actor
Dexter Fletcher
.
In January 1998, Neil had the opportunity to meet Robbie Williams during the
20th Century Blues Gala Evening
, given in tribute to Noel Coward. Their friendship led Neil to feature Robbie Williams' single
No Regrets
and then to support him during his 1999 tour. At the same time, Neil Hannon was invited to contribute to a
concert
given by Breton composer
Yann Tiersen
. Two years later, they would record '
Les Jours Tristes
' which the instrumental version features the soundtrack of the movie
Amélie
.
In 1999, Neil made more various appearances with some more artists like Tom Jones – with whom he recorded a duet, '
All Mine
' – or Ute Lemper – for whom he sang two duets and wrote three songs, all of which appearing on her album
Punishing Kiss
on which The Divine Comedy's musician played as well. That same year, the band also
supported R.E.M. in Dublin
.
In August 1999, 10 years after first signing with Setanta, The Divine Comedy had shifted to a bigger label: Parlophone (EMI) (Radiohead, Coldplay, Blur, Supergrass, …). Setanta celebrated this anniversary by releasing a best of,
A Secret History
.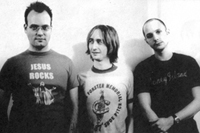 By that time, The Divine Comedy started recording a new album which had been mainly written on the guitar, because Neil moved into a new house, after his wedding with
Òrla Little
and Neil couldn't get access to his piano. The album was produced by
Nigel Godrich
(Beck, Travis, Radiohead…) and recorded at RAK (London) while Travis were working in the next studio. Neil tried to make his musicians more involved into the album than they used to be. The result was a sound closer to an alternative band than Scott Walker. Similarly, Neil's style had changed as well, as he started again wearing T-shirts and denim and as he had long hair.
Regeneration
was released in March 2001. It was not as well-received by the fans as it was hoped to be, for many were quite upset by Neil's sudden change, however this change introduced a new audience to the band. In spite of a huge promo all over Europe and of a good deal of festivals, including the Rolling Stone Roadshow in Germany, the album was fairly sold: in France, the album reached the best sales ever for a Divine Comedy album; but for the label, it didn't sell as much as expected. In October 2001, Neil had to announce a new split: The Divine Comedy was broken and couldn't continue with seven musicians. The band played their last gig together in
Belfast in November 2001
.
Each musician went his own way. Joby, who already had a career of his own, was able to devote more time to his composition projects (classical, film soundtracks). Bryan, thanks to the success of The Divine Comedy, started working for several indie bands – sometimes with Ivor too – as a bassist or producer. And Neil Hannon took advantage of the situation to put a new life into The Divine Comedy, while not being sure of keeping the name The Divine Comedy.
In January 2002, The Divine Comedy – composed of Neil, Rob and Ivor – started touring the States. A few weeks later, Neil went back there solo to support Ben Folds for several months.
Back in the UK, Neil announced in
Muse
magazine – The Divine Comedy's official magazine – he would not change label nor drop his stage name, but would continue solo, just as in 1993.
In the summer, David Bowie, curator of the
Meltdown Festival 2002
, chose The Divine Comedy to perform at the festival. Not long after,
Simon Little
, joined the band as a bassist and double-bassist. Some time later, The Divine Comedy toured the UK accompanied by Ben Folds.
The Dublin times (2003-2014)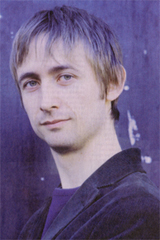 In 2003, the Hannons decided to move to Dublin and by doing so Neil got closer to his origins. Neil says it's to save his daughter Willow Mary Erin, then one year and a half old, from saying her first words with the English accent [11]. There he finished working on his next album. The recording sessions started in RAK (London) that year with
Joby Talbot
,
Rob Farrer
,
Simon Little
and
Yann Tiersen
as a guest. The album was mixed by
Nigel Godrich
and produced by Neil Hannon.
On March 29th 2004,
Absent Friends
was a last released. It was expected to be different from
Regeneration
. It is actually a return to the beginnings of Neil's solo career and reminds one of
Liberation
or
Promenade
. Neil cut his hair – though not too short – and invested in a green velvet suit and a flowery shirt.
The release of the album was followed by a series of concerts in the UK and in Paris, where Neil was accompanied by an orchestra, the
Millennia Ensemble
. After touring the US, The Divine Comedy's first DVD,
Live At The Palladium
, was released in October. To promote it, the band gave two historical shows, both with the
Millennia Ensemble
: one in Paris at the mythical
Folies Bergères
and the other in London at the not less famous
Royal Albert Hall
.
In December, Neil participated, with several artists to the recording of a 2004-version of
Do They Know It's Christmas?
– to raise funds for the Band Aid – produced by
Nigel Godrich
.
In March 2005, Neil recorded the vocals for a couple of songs on the soundtrack of the movie
The Hitchhiker's Guide to the Galaxy
composed by
Joby Talbot
. These songs feature other musicians such as
Hilary Summers
,
Dougie Payne
(Travis) and
Miggy Barradas
.
A few weeks later, Neil performed two Robbie Williams's songs during a BBC Radio 2 broadcast on Guy Chambers, with whom he then wrote material for
Laura Michelle Kelly's album
.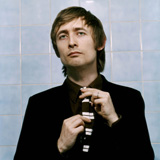 In December 2005, Neil started recording a new album with his new band comprised of
Andrew Skeet
,
John Evans
,
Simon Little
,
Rob Farrer
,
Lucy Wilkins
,
Chris Worsey
,
Tim Weller
and even
Dougie Payne
as a guest. It was a small budget record which was recorded live during a week in RAK (London). The album was meant to be a cover album, but finally new songs were recorded and only one cover kept for the album ('
Party Fears Two
' by The Associates). The album, ironically called
Victory For The Comic Muse
, was released in June 2006. At the same time, Neil made the news in France for his collaborations with
Vincent Delerm
, Jane Birkin, Charlotte Gainsbourg and Air, which led him to give Francophile concerts at the
Cité de la Musique
in Paris two years later. In 2006, Neil was also asked to record a poem for Keane, and to sing tunes for the BBC's
Doctor Who
Christmas special. He also composed and recorded the music of
The I.T. Cowd
, a sitcom written by
Graham Linehan
.
After a tour across Europe with a band from Belfast – Duke Special – as a support act, The Divine Comedy has fulfilled his contract with Parlophone. On the beginning of 2007, Neil Hannon created the surprise by winning the Choice Music Prize (an Irish equivalent of the Brit Awards) thanks to the album
Victory For The Comic Muse
and won 10 000€. This enabled him to decide to completely auto-produce himself. Indeed, a couple of years ago, Neil Hannon had owned his rights from Setanta and planned to re-release his first albums under the label Divine Comedy Records. From then on, Neil could continue his career without the support of a label.
Neil then got closer of the indie Irish scene, involving himself in collaborations such as
The Cake Sale
collective (a project sent out by Brian Crosby from Bell X1). Or appearing with Irish bands such as Duke Special (as in the
Amnesty International Small Places Tour
) or
Pugwash
, an indie group from Dublin led by
Thomas Walsh
and influenced by Electric Light Orchestra and XTC, taking part in the recording of their
Eleven Modern Antiquities
album. The album was released in 2008 by
1969 Records
, an indie label from Dublin (Dave Couse (ex-A House), The Pale).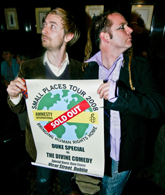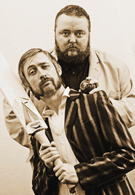 After that, Neil Hannon and
Thomas Walsh
formed a new band,
The Duckworth-Lewis Method
. Concept band about cricket, its name is based upon the statistic method to calculate the score of a match stopped by the rain. Thus, Thomas Walsh became Mr. Duckworth while Neil Hannon became Mr. Lewis. The album, released in 2009 by both Divine Comedy Records and 1969 Records, involved many guests such as actor
Matt Berry
(The I.T. Crowd), Irish singer
Cathy Davey
and guitarist
Tosh Flood
(Saville). The band was surprised to see the album get positive reviews by the press, and reach a greater success than
Victory For The Comic Muse
.
The same year Neil Hannon collaborated with
Eg White
and Portuguese composer
Rodrigo Leão
; contributed to the album
God Help The Girl
– the musical by Stuart Murdoch (Belle & Sebastian); composed the original score of the film
Wide Open Spaces
by
Arthur Mathews
; and recorded a new Divine Comedy album.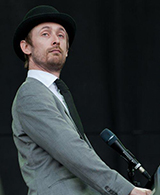 Released in 2010, the album
Bang Goes The Knighthood
features on the front cover Neil Hannon having a bath with his dog, Leia; and focus frivolously on more or less serious matters, as the economic recession or indie nightclubs. The album was promoted by an extensive solo tour entitled
An Evening with Neil Hannon
: only with a guitar and a piano Neil Hannon performed all over Europe, and so avoided the effects of the recession.
Meanwhile Neil Hannon was commissioned for several stage works he composed the music for. In December 2010, the Bristol Old Vic produced the musical adaptation of Arthur Ransome's
Swallows & Amazons
, which toured the UK the next year. Neil Hannon also wrote
Sevastopol
, a mini-opera piece for the Royal Opera House's OperaShots; composed the music for Frank Alva Buecheler's
In May
. For the celebration of the restoration of the Royal Festival Hall's organ in 2014, Neil Hannon was also commissioned by the Southbank Centre and PRS Foundation For Music to compose a piece for voices and organ entitled
To Our Fathers In Distress
which is a series of vivid musical scenes for organ and choir that evoke the constriction, the mystery and magic, the boredom, and the hard-won freedoms of a childhood Sunday, and was actually dedicated to his father Brian Hannon who now suffers from Alzheimer's.
Finding Foreverland
In December 2012 Neil Hannon took part in a project curated by Cathy Davey, a compilation in benefits of
Dogs In Distress
, which also involved Villagers, Lisa O'Neill, Lisa Hannigan and
Graham Linehan
. The pair got more and more involved in animal rescue, and soon Cathy got involved in horse rescue. With a few friends she set up an association, which they named after Neil's song for
Father Ted
:
My Lovely Horse Rescue
. They bought farms to take care of the animals, and then moved home to the countryside of Kildare.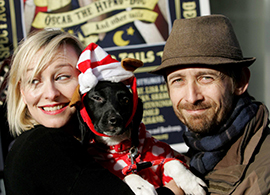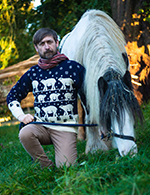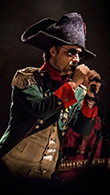 Meanwhile, Neil and Cathy were both offered a writing room at the National Concert Hall in Dublin. Cathy managed to write and record the album
New Forest
released in 2016. While Neil Hannon wrote the next two Divine Comedy albums based on synthpop influences. Half of the songs fit in themes of love relationships and finally get re-arranged with classic Divine Comedy orchestrations:
Foreverland
. The album, released in September 2016, got a very positive reception by the media and went very well on most European charts. The band did a huge European tour, with Neil dressing up as a famous French emperor joking on his '
Napoleon Complex
'.
During the tour the band went to Neil's home studio to record another album, with songs more focused on contemporary themes. This time Neil Hannon achieved his synthpop dreams, and the album
Office Politics
shows The Divine Comedy adventuring into new territories. The album still got a very good reception in UK, reaching #5 in the charts.
[1] A Secret History limited edition
[2] Liberation press release
[3] Emporium 3
[4] Muse Magazine #2
[5] Reference needed
[6] NME 1993
[7] Biography 2004
[8] Time Out
[9] Bryan Mills interview @ Music OMH
[10] Les Inrockuptibles 1996
[11] Rock & Folk 2004