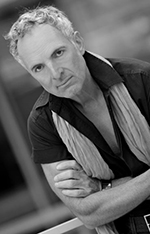 Frank Alva Buecheler is a German dramaturgist, but also a director, producer and theatre manager. As a producer he has worked on plays such as
My Fair Lady
for St Paula Theater in Hambourg or
Jekyll & Hide
for Bad Hersfeld Festival. As a writer his works include
Einsame Menschen
,
Das Wunder Von Bern
or
Der Kommdant Spricht
(
The Kommandant
), the latter being translated with his long-time collaborator
Tim Clarke
.
In 2009 he approached Neil Hannon to work on
In May
(originally
In Mai
) a play about a you man dying of cancer. Neil Hannon accepted the project and wrote the music for play while
Tim Clarke
translated it into English and French...
The project was kept dormant for a while, but finally saw the light of the stage in 2013 for Live at LICA in Lancaster, with help of producer
Matt Fenton
. A couple of performance in UK followed the next year.