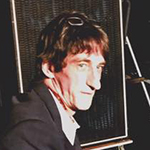 Alastair Artingstall has been part of The Divine Comedy's road crew since late 2015. He has also worked as a tech/roady for other bands such as Ash, The Wannadies or Keane.
Alastair is also an artist of his own, having released a couple of albums (
Poet Servant Clown Queen
in 2001 and
Four Lawn Hope
in 2006) and plays regularly acoustic gigs around London.