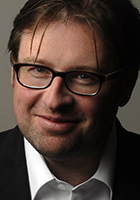 Christopher Austin (born 14th November 1968) is a conductor and arranger, mainly known for being the founder and artistic director of the
Brunel Ensemble
.
Christopher Austin studied at the University of Bristol, and at the Guildhall School of Music and Drama. It is probably there where he met his long-time collaborator,
Joby Talbot
.
Chris conducted the
Brunel Ensemble
on tour with The Divine Comedy in 1996 and 1997, and for the recordings of
A Short Album About Love
and
Fin De Siècle
.
He has since continued working with
Joby Talbot
on most of his film scores, including
The Hitchhiker's Guide To The Galaxy
for which he co-wrote the song '
So Long And Thanks For All The Fish
'. He also conducted various orchestras for many of Joby's ballet including
Chroma
(Royal Opera House Orchestra),
Eau
(Orchestre National de Lille) or
Alice's Adventures In Wonderland
(Royal Philharmonic Orchestra).
Christopher Austin also teaches composition, conducting and orchestration at the Royal Academy of Music, in London.