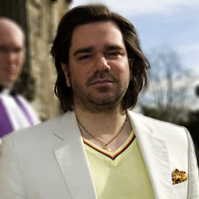 Matt Berry (born 1974) is mainly known as British actor, writer and comedian. Berry has appeared in many sitcoms including
Snuff Box
,
Garth Marenghi's Darkplace
and
The I.T. Crowd
(although he joined the show since the second series, while Neil Hannon originally wrote the music for the first).
Less known is that Matt is actually a complete artist as he is a painter and a musician as well, playing almost all the instruments on his records.
Matt studied Contemporary Arts at the Nottingham Trent University. During he studies he also already made his first album
Jackpot
under the name of Jeffrey Porksmith. After meeting Noel Fielding and Richard Ayoade, became involved into
The Mighty Boosh
shows and came into comedy which leads him to play in 2004 in
Garth Marenghi's Darkplace
. He then managed to relaunch his musical career, first by composing music for the comic shows such as
AD/BC: A Rock Opera
and
Snuff Box
. Although the first one is a parody of music from the 70's, Matt has a real love for psychedelic music. In 2005 he finally managed to release a self-produced album
Opium
.
In 2007 Matt Berry became very popular in UK playing in
Graham Linehan
's
The I.T. Crowd
the role of Douglas Reynholm, an impetuous, arrogant and sexy boss who sometimes also wears cricket outfits. It was then with no surprise Matt became involved in 2009 on the
Duckworth Lewis Method
providing the monologue on '
Mason On The Boundary
' and sometimes joining them on stage. 2009 was also an important turn in Matt's musical career as he released a second album online:
Witchazel
, which was followed in 2010 by the
Summer Sun
EP. In 2010 Matt berry bacame 'the voice of Absolute Radio' having his own show on the station.
In 2011, following an interest from Acid Jazz Records, Matt signed to the label which released
Witchazel
on CD and vinyl. With a live band Matt has toured to promote the release, and sometimes with
Pugwash
on support which he qualified as an honour [1]. On one of his video,
Pugwash
appeared as a backing band. In 2012, he provided vocals for a cover of Jimmy Ruffin's '
What Becomes Of The Broken Hearted
' by
Pugwash
& Neil Hannon.
In 2013, Matt released a new album
Kill The Wolf
on Acid Jazz Records. The album featured vocals contribution from
Thomas Walsh
and
Tosh Flood
. The same year, he contributed again to
The Duckworth Lewis Method
's second album,
Sticky Wickets
, providing spoken words as well as posing on the cover of the single
It's Just Not Cricket
. 2014 saw the release of a new album,
Music for Insomniacs
.
Meanwhile Matt Berry and
Arthur Mathews
started in 2012 writing together the sitcom
Toast Of London
in which Matt Berry plays Steven Toast, an eccentric second-class actor, as well as doing all the music. In 2014, the second series features a duet between Matt Berry and Neil Hannon (though Neil does not play in the series).
Matt Berry's website: http://www.themattberry.co.uk/

[1] London, 09/11/2012