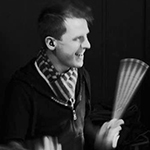 Johnny Boyle is an Irish drummer. He has played with different bands including LiR, Picturehouse, The Frames (for who he plays since 2003),
Pugwash
(until 2009) and even Marianne Faithful.
Johnny also contributed to the recording of
The Duckworth Lewis Method
. He joined the band on stage once in early 2010, though the instrument is more often played by
Tim Weller
.
He is also a tutor at the BIMM Music College in Dublin.