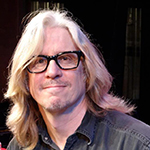 Nelson Bragg is an American percussionist, vocalist and songwriter. He has played for several bands since 1979 including The Now People, The Quarter After, Twenty Cent Crush and Cloud Eleven. In 2003 he joined Brian Wilson's band and is a regular player for him. In 2012 along Brian he joined the Beach Boys for their 50th Anniversary Reunion Tour.
As a songwriter, Bragg has also released a couple of solo albums:
Day Into Night
(2003-2007) and
We Get What We Want
(2012).
Probably thanks to Brian Wilson's manager David Leaf who get to heard
Pugwash
's
Jollity
album, Nelson contributed to the recording of their subsequent album
Eleven Modern Antiquities
in 2007. In 2013, he contributed to the recording of
The Duckworth Lewis Method
's
Sticky Wickets
.