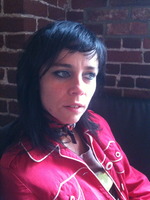 Claire Burbridge (born in London, December 1971) is a sculptor. She studied Fine Art and history of Art at the Magdalen College, and then printmaking at Camberwell College of Fine Art in the early 90's.
She is most famous by Divine Comedy fans for making the statues used for the artwork of the album
Regeneration
. The piece used on the front cover is entitled '5 amber runners'. The band actually felt a kind of alchemy between their music and her works which were exposed in the studio during the recording. [1] Claire was then in charge of the art direction for the album.
Although, her first involvement related with The Divine Comedy was to produce some paintings for the short movie
Queen's Park Story
in 1997 for which
Joby Talbot
composed the music. Neil Hannon was also involved in the film.
In 1998, she married
Joby Talbot
, with whom she has a son, Maurice. Joby and Claire have often collaborated since: she'd expose some of her productions during Joby's recitals, and Joby's music could be heard at some of her exhibitions. One of her exhibition was named 'Luminescence', in reference to one of Joby's compositions. As
Regeneration
, Joby's debut album
The Dying Swan
also featured her works on the cover. In 2005 she collaborated with director Jerry Chater on silent film
The Fall
based on
Joby Talbot
's music.
In 2001, Claire made two major exhibitions in Oxford and London. She has since exposed all around the world: London, Liverpool, Berlin, San Francisco, Miami, New York...
She now lives in Oregon, USA, with her son and a new husband, sculptor Matthew Picton.
Claire Burbridge's website: http://www.claireburbridge.com/

[1]

Response

interview CD