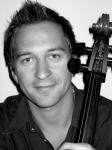 Ian Burdge is a professional cellist, and co-founder of the
Millennia Strings
with
Chris Worsey
. Aside of this, Ian has also played for the Guildford Philharmonic and the Southern Sinfonia, and been a member of Drugstore since 1996.
He has played with the
Millennia Ensemble
on most of The Divine Comedy and Duckworth Lewis Method albums since
Absent Friends
; as well as on
Joby Talbot
's
Aluminium
.