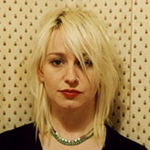 Cathy Davey (born 1979) is an Irish singer and songwriter and multi-instrumentialist, daughter of composer Shaun Davey and sculptor Agnes Conway.
In 2003 she signed to EMI and released the next year her first album
Something Ilk
, produced by Blur/Elbow collaborator Ben Hillier and recorded with the help of Simon Jones (bass), Justin Pritchard (drums), Simon Tong (guitar), Diana Gutkind (keyboards) and Ben Hillier (percussions).
At that time, Davey also provided vocals for Elbow, Ken McHugh's Autamata and Dutch-Irish act House Of Cosy Cushions.
In 2007 Cathy Davey released her second album
Tales of Silversleeve
(EMI). Produced by Stephen Street, the album featured many sessions musicians including Simon Jones (bass) and The Immediate's Conor O'Brien (guitar). The album won the Choice Music Prize that year.


In 2008 she was one of the guests at the
album launch
party of
Pugwash
's
Eleven Modern Antiquities
where Neil Hannon also performed on that night. Neil Hannon and Cathy Davey would then pursue a professional and personal relationship [1]. Indeed, Neil and Cathy often performs together at fund-raising shows in Dublin.
In 2009, Cathy Davey contributed to recordings of Lisa Hannigan and Conor O'Brien's Villagers, as well as a couple of Neil Hannon's projects: The Divine Comedy's
Bang Goes The Knighthood
and
The Duckworth Lewis Method
. Meanwhile, she worked on her third album
The Nameless
on which Neil Hannon and Conor O'Brien also contributed. The album was released on her own label Hammer Toe Records in 2010.
In 2011, Cathy, Jape and Romeo Stodart performed with Neil Hannon for the JD Set. Together they covered the first album of Vampire Weekend.
Cathy Davey has curated many fund-raising projects, including the show 'Songs That Scare Children' (on which Neil Hannon participated), and the album
Oscar The Hypno-Dog
(2012) for the Dogs In Distress association of whom she is the patron. The album involved many artists including Neil Hannon, Villagers, Lisa Hannigan &
Graham Linehan
, and many students from the BIMM Music College where she was also teaching.
More recently, Cathy, being an animal lover, has been less involved in the music, and more in animal rescue. First in dogs rescue, and then in horses with founding the association
My Love Horse Rescue
of whom Neil Hannon is also the patron.


In 2016 she released a new album,
New Forest
. The Divine Comedy album
Foreverland
was dedicated to her. She provided vocals on the album, and subsequently joined the band on stage on a few occasions.
Cathy Davey's website: http://www.cathydavey.ie/

[1] Le Bien Public, 21/09/2010