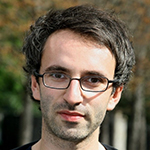 Vincent Delerm is a French singer / songwriter, and son of poet Philippe Delerm.
Vincent has always claimed being a big fan of The Divine Comedy. In 2004 he realized one of his dream, to go onstage at The Divine Comedy's concert at
Le Grand Rex
, in Paris to read Georges Perec's poem 'Je me Souviens', which he finished with a reference to The Divine Comedy's
Promenade
.
In 2006, he returned the favour to Neil, by guesting him to his album
Les Piqûres D'Araignée
to sing the song '
Favourite Song
' (written by Vincent and Peter Von Poehl). That was followed by a duet during live show in Paris which was released on Vincent's CD/DVD
Favourite Songs
(2007).
For his
French shows at La Cité de la Musique
in 2008, Neil Hannon covered his favourite Delerm song '
Anita Pettersen
' and invited Vincent on stage to perform '
Songs Of Love
'. The audience's reactions were mixed, mainly because of Vincent's French accent.
In 2010, Vincent contributed to LCI's 'Vous Avez Un Message' interview of Neil Hannon. Neil Hannon and Vincent Delerm are good friends, and Vincent can often been spotted at Divine Comedy's Parisian shows.