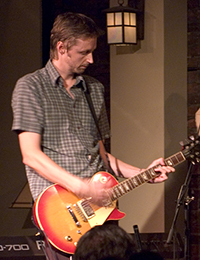 John Evans is a professional guitarist.
He has played guitars and banjo (and sometimes keyboards) for The Divine Comedy, joining different line-up of the band, since the recording of
Absent Friends
when he was brought into the band thanks to his friend
Andrew Skeet
[1].
He then played on the album
Victory For The Comic Muse
and continued touring with The Divine Comedy until 2008. John has since contributed to the album
Bang Goes The Knighthood
but has not toured as Neil Hannon went solo on tour.
John Evans has also played with the London Philharmonic Orchestra for
Andrew Skeet
's
Greatest Video Game Music
(vol. 1 & 2).
[1] Andrew Skeet Q&A on Classic FM