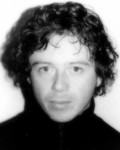 Keith Farrell was
Pugwash
's bassist, sound engineer and co-producer until 2009.
Keith also contributed to the recording of
The Duckworth Lewis Method
, playing bass, and as an audio engineer. Although, he did not join the live line-up,
Simon Little
playing the bass for gigs.
In 2012, Keith worked on
Cathy Davey
curated album
Oscar The Hypno-Dog
, as a sound engineer as well as being one of Harry Holler's Hooligans.
Keith Farrell has also played for many names of the Irish scene, including Picturehouse, Mundy, Graham Hopkins' Halite, Las Vegas Basement, Slumberjet and Controversial All Stars, and engineered numerous artists including Saville and
Cathy Davey
.