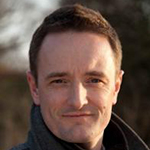 Robert Farrer (born 30th March 1974) is The Divine Comedy's percussionist since 1995.
Rob studied at the Guildhall School of Music & Drama until 1997. When he was still a student, he was introduced into The Divine Comedy by
Joby Talbot
along the
Brunel Ensemble
during the recording of
Casanova
. He subsequently toured with the band, with the
Brunel Ensemble
, or just an an extra-member for some TV shows. During the recording of
Fin De Siècle
, he was officially announced at the 7th member of The Divine Comedy and became a permanent member. When the band split in late 2001, he stayed with Neil Hannon and toured with every line-up until 2007. Although he is known for playing percussions, he has also played various instruments for the band: guitar, keyboards, drums, backing vocals… Even though he now no longer play live with the band, he still contributes to some studio recordings of The Divine Comedy or The Duckworth Lewis Method.
As a professional musician, Rob performs on works by composers such as
Joby Talbot
,
Andrew Skeet
, Murray Gold and Graham Fitkin, including lot of soundtrack music (
The League Of Gentlemen
,
The Hitchhiker's Guide to the Galaxy
,
Doctor Who
,
Alien Autopsy
…). He has also played for various musicals including
Lord Of The Rings
and
Theatre Of Blood
, and for notables pop artists including David Knopfler, Peter Gabriel, Katie Melua and Siouxsie.
Other musical involvements include being a band member of
Elvis DaCosta
, Lord Large, and Christian Forshaw & the Sanctuary Ensemble.
In 2018, Rob has also contributed as a guest-performer for
Ian Watson
's London Accordion Orchestra for a movie soundtrack concert featuring most of The Divine Comedy has a backing band.
But Rob is not just a performer, as he also teach music. In 2003, he launched with
Stuart 'Pinkie' Bates
, Remix, a coaching service company for young musicians and students. He now teaches at the
Felsted School
, where he managed Neil Hannon to play a gig at, and also runs workshops in percussion for the Guildhall.
And, last but not least, Rob is also a fanatic of football!
Rob Farrer's website: http://www.robfarrer.co.uk/