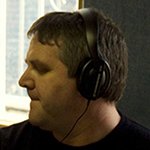 Joe 'Stamp' Fitzgerald (born 13th December 1972) is the drummer and percussionist of
Pugwash
since 2010.
Prior to this, he used to play in Saville along with Ken O'Duffy (of The Experiment, and late line-up of Light A Big Fire / The Believers), Vincent Duffy and
Tosh Flood
. One of Saville first demos,
Re-live that Darndale Moment
, went voted 'demo tape of the year' by Hot Press. After some international performances, many media coverage, and two self-released EP, the band released their first album
Is Anybody Happier Today?
(BDB Record) in 2000. This followed by two other albums:
Somnambular Ballads
(Reekus Records, 2003) and
Nostalgia
(Reekus Records, 2008).
Meanwhile, Joe and
Tosh
also played for Canice Kenealy's The Sound We Make, and for
Shaun McGee
's Dynamo Hymn.
In 2010, Joe,
Tosh Flood
and
Shaun McGee
joined
Thomas Walsh
as the new
Pugwash
line-up. Together they recorded the album
The Olympus Sound
(2011). In 2013, the four 'Pugs' played with Neil Hannon as his backing band for his performance at Other Voices Derry.
Recently, Joe has also contributed to the recording of the second
Duckworth Lewis Method
album,
Sticky Wickets
, and
My Lovely EP
.