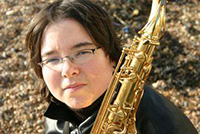 Charlotte Glasson is a multi instrumentalist. She started the violin at the age of 5, then the guitar at 8, piano at 10, alto at 12. At 14 she studied composition with classical composer Morgan Hayes, and at 17 she formed the Giddey String Quartet. Then she studied classical music in Kingston University, and got saw lessons.
She has played as a session musician for many many artists, including Three Friends, Nick Cave, Oasis, Unkle, Stevie Kalinich and of course The Divine Comedy! During the recording of
Casanova
with the
Brunel Ensemble
, she played tenor and baritone saxophone, flute and viola as well. She subsequently toured with the
Brunel Ensemble
playing flute and saxophone. She continued her collaboration on every other Divine Comedy albums except
Regeneration
. Although she mainly played for the band as part of an ensemble, she has also played with The Divine Comedy as an extended line-up, for some live shows between 2006 and 2008, including the concert at the
Cité de la Musique
.
She has also performed works by
Joby Talbot
and
Andrew Skeet
.
She also runs a band of her own, with various musicians including Jason Henson, Dave Holdsworth, Sam Glasson, Mark Bassey, Dan Hewson. She often performs shows with her band, and has released several albums:
Everyones Life Is An Epic (2005)
Escapade (2006)
Que Pasa 'Glass Blower' (2009)
Lazy Days (2009)
Travels with Charlotte Glasson (2008)
Shadow Dance (2009)
Charlotte's World Wide Web (2010)
Playground (2011)
Charlotte Glasson Band 'Live' (2012)
Charlotte Glasson's website: http://www.charlotteglasson.com/