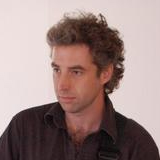 Grant Gordon joined The Divine Comedy as drummer at the time of the recording of
Casanova
. Before that Grant was a school friend of
Joby Talbot
and they used to play in a prog rock band called 'Strawberry Blue' covering Deep Purple and Cream songs. After losing touch for a while, they met again in a wedding in 1994 where Joby mentions The Divine Comedy. After listening to
Promenade
, Grant is asked to join the band as a drummer. "I said I'd be much more interested in playing the bass as I'm much better at the bass. But Neil had already recruited his old schoolfriend Bryan to be bassist, so I said "Ok I'll play the drums". Me, Neil and Joby had a jam and that was it."
One of his first experience with the band was the recording of '
The Dogs And The Horses
' in Abbey Road Studio 2 with a 40-piece orchestra and wearing nothing but a Hawaiian shirt and surf shorts. [1] He subsequently toured with the band until mid-1996 when he unfortunately broke his elbow when playing football. He was then replaced by
Miggy Barradas
.
After that, he still played music, as a guitarist with the band Moo, Analog, and later Sparker.
He has also a career of his own and released several records:
Calendar
(2000);
Clever Monkey
(2001); the concept album
Century
(2002) and
...why aren't we screaming...?
(2003) as I, Thalamus;
Work
as Staff; and
Wild West
. More recently, Grant has produced a couple of rock-operas,
Century
and
Requiem
. Grant also plays on some of the works of his wife, composer Donna McKevitt.
Grant has also a journalist background: working for TV shows, lecturing on Reality TV, producing radio documentaries for the BBC - including the 'Berlin: Soundz Decadent' documentary - as well as audio-visual material for BBC News in India and Vietnam. In 2012 he published his first book
Cobras In The Rough
about playing golf in India.
[1] Grant Gordon's biography at Peoplesound