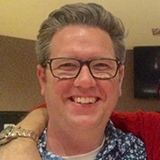 Jake Jackson is a sound engineer, working are a resident in Air Studio, or as a freelance with Air Management. He has worked on many projects (albums, films, videogames, classical music) and with many artists including Nick Cave.
He has worked many times for composer such as
Joby Talbot
(
The Hitchhiker's Guide To The Galaxy
) or Murray Gold (
Doctor Who
), or even the London Quartet for their [disc=Songs of Cricket]
Songs of Cricket
[/disc] album.
In 2015 he was hired for the recording of
Foreverland
for which he also provided backing vocals, and performed once with The Divine Comedy onstage.
Jake is also the son of musician
David Jackson
.