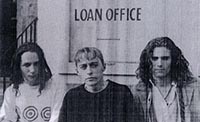 Lady Macbeth was a heavy metal band from Enniskillen, founded by Portorans
Bryan Mills
(vocals),
Ivor Talbot
(guitar), Martin Tysdale (bass) as well as Warren Hamilton (guitar) and Davis Owens (drums). They gave a few gigs in Enniskillen, and recorded a four track demo.
In 1991, they played Ennikillen's Battle of the Bands at The Vintage, were The Divine Comedy were also supposed to play. However, The Divine Comedy were cancelled following a disagreement between Neil Hannon and the organizers.
Soon after, the band split as the musicians were going University. It seems though that Bryan kept in touch with his mates, in particular Ivor who was introduced to The Divine Comedy soon after Bryan joined the band.