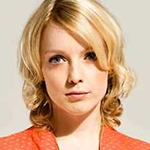 Lauren Cecilia Fisher (née Gofton, 28 April 1978) is a English radio DJ known as Lauren Laverbe.
In the nineties she was popular with the band Kenickie which achieved a top ten album. She was also popular on television being often guest on Never Mind The Buzzcocks, including once with Neil Hannon among the other guests.
In the early 2000's she joined XFM as a regular host. She has since worked for many radios including BBC Radio 2 and Virgin Radio. She now has her own show BBC Radio 6 Music which has received Neil Hannon. From 2006 to 2010 she also often presented The Culture Show on BBC Two.
Her connection with The Divine Comedy was to provide the backing vocals for the song '
Come Home Billy Bird
', on
Absent Friends
. She may also have introduce a friend of her as the stewardess in the video of the single. [1]
[1] Reference needed