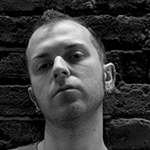 Simon Little (born 30th September 1980) is The Divine Comedy's bassist since 2002. He plays electric bass as well as double bass.
Simon studied bass school in Dorset since being 15. Then, he studied at The Guildhall School of Music & Drama with Kevin Rundell, Jeff Clyne and Steve Watts. It's there that he met
Rob Farrer
who told him that Neil Hannon was looking for a bassist. [1]
He first joined The Divine Comedy in late 2002 when the band was touring the States. In 2003 he took part in the first recording sessions of the
Absent Friends
album, but had a minor part in the final recording of the album. At the same time he also recorded various sessions with Julian Simmons and
Ivor Talbot
for different artists including A Girl Called Eddy and Benjamin Till.
After the release of the album, Simon toured with The Divine Comedy in various line-up, including shows with the
Millennia Ensemble
. He then played for the album
Victory For The Comic Muse
and subsequently toured with the band. Simon stills plays for The Divine Comedy, although Neil Hannon has been touring solo over the last few years, he plays on the album
Bang Goes The Knighthood
.
Since 2008, along with
Tim Weller
, Simon is part of Duke Special's backing band. Although, he actually first met Duke Special when they were supporting The Divine Comedy in Autumn 2006. During that tour, he once joined Duke Special with
Chris Worsey
and
John Evans
for a
BBC Radio Ulster session
. Simon has toured extensively with Duke Special since and has played for some of his records including
Oh Pioneer
(2012).
In 2009, he and
Tim Weller
also joined The Duckworth Lewis Method for their live dates. And joined the definitive line-up in 2013, playing of the album
Sticky Wickets
and the accompanying tour.
Simon also plays for Clare Teal, Maggie Reilly, and jazz musicians Nina Ferro, Ian Shaw… He has also played for Nick Cave, Ben Folds, and with the London Philharmonic Orchestra for
Andrew Skeet
's
Greatest Video Game Music
(vol. 2). In 2018, Simon has also contributed as a guest-performer for
Ian Watson
's London Accordion Orchestra for a movie soundtrack concert featuring most of The Divine Comedy has a backing band.





Simon Little has also released a few
albums of his own
:
Mandala
(2010),
The Knowledge of Things To Come
(2011),
[un​]​plugged
(2012); and
Foreground Music, Vol. I
(2012) with Jez Carr and Mike Haughton.






More recently, Simon had released several EP and albums for an electronic music project started in 2016 under the name
Monochrome Echo
.
Simon is also a fan of iPhoneography, taking and editing photos on iPhone which he posts on Instagram.
Simon Little's website: http://www.simonlittlebass.com/

[1] Uke Planet interview with Simon Little