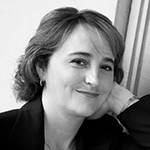 Kelly McCusker is a violin player. She has studied at the Purcell School of Music and at Kingston University; and was awarded a Distinction in Music Performance for her Masters degree at the Birmingham Conservatoire.
She has played for various orchestras, including Hanover Band, Elgar Sinfonia, Chandos, Birmingham Philharmonic and the Longborough Festival Opera Orchestra.
She has also played with the
Brunel Ensemble
for The Divine Comedy on the album
Fin De Siècle
; or for some of Murray Gold's
Doctor Who
soundtracks.
More recently, she has been part of the Astaria Ensemble and Astaria String Quartet which released the album ¡Fiesta!
[1] Astaria Ensemble Biography
[2] Kelly McCusker's biography on the Astaria String Quartet's website