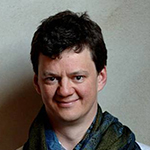 Tom Morris is a stage director, who directed
Swallows And Amazons
.
Tom started in 1988 as an arts journalist and freelance producer, writing for various publications (Time Out, The Sunday Times, The Observer, The Independent) and broadcasting. From 1995 to 2004 he was the Artistic Director of Battersea Arts Centre (BAC). Then he became Associate Director of the National Theatre. Productions he has worked on for the National Theatre include
Every Good Boy Deserves Favour
,
War Horse
(for which he won the Tony Award for Best Direction of a Play),
A Matter of Life and Death
and
Coram Boy
.
In 2006 he approached Neil Hannon after his show at the
Somerset House
[1] and commissioned him for writing a music of his own choice. After a while, Neil Hannon came up with the idea of
Swallows And Amazons
. Initially planned for the National Theatre, the production was delayed since Tom Morris became Artistic Director of the Bristol Old Vic theatre in 2009. The enabled him more freedom for his own productions [2], and
Swallows And Amazons
's production was finally completed in 2010. The show was performed at the Bristol Old Vic in December 2010 / January 2011, and subsequently toured in UK in Winter / Spring 2012.
[1] [2] References needed