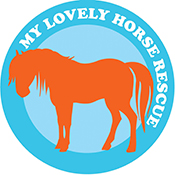 My Lovely Horse Rescue is non-profit organization based in Kildare, Ireland, founded in 2013. They act in animal rescue, rescuing mainly horses, but also other kinds such as donkeys, goats, pigs and dogs.
They were co-founded by Martina Kenny and Deborah Kenny with
Cathy Davey
after her investment in Dogs In Distress. They soon realised that there was a real need in Ireland for horses rescue, and so started to set up lands and means for their care.
When Cathy Davey was looking for a name for the organization, Neil Hannon suggested her to use the name of one his most popular song in Ireland,
Father Ted
's '
My Lovely Horse
' [1]. Hence, what was just a funny little song is becoming now a synonym of animal care.
In 2014, Cathy Davey and Neil Hannon moved home to Kildare, to be closest to the farms owned by My Lovely Horse Rescue. Despite his love for animals, Neil's actions to the organization are not as big as Cathy Davey's (who has made it her first involvement before music) but are still significant.
Neil Hannon dedicated to them the song '
To The Rescue
'.
My Lovely Horse Rescue regularly organizes fundraising events including table quiz sometime animated by Cathy Davey and her musician friends. They also have a charity shop, and are present every year at Electric Picnic with a ranch, were several well-known Irish artists have performed.
My Lovely Horse Rescue's website: http:// http://www.mylovelyhorserescue.com/

[1] Neil Hannon interview with Bob Fisher, BBC Tees, 12 December 2012