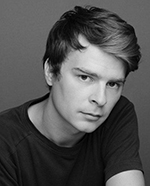 Raphaël Neal is a French photographer and director. He has shot many portraits of music and cinema artists.
In 2016 he approached The Divine Comedy for a photo session, so after the day of the
Arte Festival
he made a series of photo at the Gaîté Lyrique in Paris. The band was very pleased by the result, and asked him for the visual identity of the
Foreverland
album: doing all the photos (apart from the front cover which was selected by Neil Hannon before) and videos. He introduced figures into his works such as Luna Picoli-Truffaut (grand-daughter of François Tuffaut) and Elina Löwensohn.
In late 2016 he joined the band on tour for a few days, shooting the video of '
To The Rescue
'.
In 2019, he has worked again with The Divine Comedy, directing the video of '
Norman And Norma
', as well as doing promotional photo shoots.
Raphaël Neal's website: http://www.raphaelneal.com/