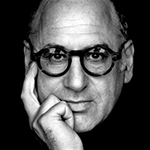 Michael Nyman is a British classic composer mainly known for his soundtracks for Peter Greenaway's films including
The Draughtsman's Contract
,
A Zed & Two Noughts
,
Drowning by Numbers
or
Prospero's Books
.
The Draughtsman's Contract
's music had a big influence on Neil Hannon at the time he composed
Promenade
. So much that it he gave to Michael – after one of his concerts in Edinburgh – a copy of his album with the mention "please don't sue" [1].
However, it was a few years later that Michael was really introduced into the music of The Divine Comedy by his friend and long-term DC-fan,
Hilary Summers
. They went together to see The Divine Comedy performing with the
Brunel Ensemble
at the
London Royal Festival Hall
. Impressed, Michael Nyman and Neil Hannon get in touch together; and with the help of
Edinburgh's Flux Festival
organiser,
David Sefton
who was also present that night, were asked to work together. [2]
For the event, they arranged some of their songs to be performed by The Divine Comedy and the Michael Nyman band together. Neil and Michael also composed a song together entitled '
Grizzly Knife Attack
'. The song was supposed to be released on a Nyman album, but the project was aborted. None of the Hannon/Nyman collaborative works had been released, although, The Divine Comedy recorded covers versions of four Nyman songs which has been released on the singles
Generation Sex
and
The Certainty Of Chance
.
In 2008, Michael Nyman and Neil Hannon started a new project together [3], but no news has been given since.
[1] FHM 04/1994
[2] Evening Standard 18/08/1997
[3] Oxford Mail 15/05/2008