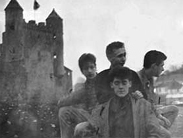 October was Neil Hannon's first band before The Divine Comedy from 1984 to 1989. The band was originally the idea of Neil Hannon and his friend
Lawrence Hoy
who taught him his first chords. Soon, they decided to put an announcement on the school notice board: "Starting a band, anyone with their own instruments, get in touch!". After some auditions, the band was joined by
David Graham
on bass and
Darren Flanagan
on keyboards. After a few months of rehearsals in Neil's room, they played their
first gig, in the Rectory's front room
in Enniskillen, a weekend when Neil's parents were out, and named the band October, after U2's album.
After the release of a first EP,
October 1st
, the line-up was reduced only to Neil Hannon and
Lawrence Hoy
. But they still continued writing and recording the
Exposition
album. They sent a copy to Hot Press magazine and won a place in the finals of the
Hot Press/Carling Band of '89, in Cork
. They had to call David back from university for the concert. They arrived second in the competition.
The failure of his A-levels decided Neil Hannon to become a professional musician and so, ended up October by giving it a new name and a new direction, under the influence of REM. Temporary entitled '
The Cherry Orchard
' and then '
The Divine Comedy
', the line-up was augmented with
Kevin Traynor
and
John McCullagh
.
See the
chronology
for a complete history of the band.