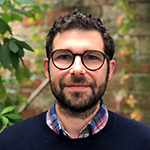 Mathieu Persan is a French artist born in the surrounding of Paris in 1978. After musical training of violin during childhood, and playing classic rock hits on guitar being a teenager, his first musical shock is the Divine Comedy's album
Casanova
in 1996.
In the 2000's his musical achievements were the releases of the LPs
Does It Make You Feel Sad?
and
There Is A Monster Of Every Head
. Despite regular gigs in Paris and a strong presence on social networks such as MySpace, no trace seems left of his musical career on the Internet nowadays.
In the 2010's he started doing graphical design for magazines such as Gonzaï. His style inspired by the 30's-50's have seduced many media since then.
In 2017 for the 3 Divine Comedy shows at the
Folies Bergères
in Paris, he did an exhibition called The Retro Comedy featuring his own artworks for each of the album displayed in the venue's hall. This led him to design another poster for a show at the
Arts Et Métiers
in 2019. Soon after the band asked him if he could do an animated video for the double single
Infernal Machines / You'll Never Work In This Town Again
. While he did all the design and illustration, the animation was cared by
Maeva Pensivy
.
Mathieu Persan's website: http://www.barbudesign.com/
The Retro Comedy's website : https://www.theretrocomedy.com/