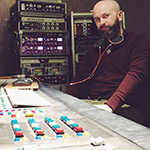 Ber Quinn is an Irish sound engineer who works with acts such as Villagers,
Cathy Davey
, Duke Special, Lisa Hannigan or The Franck & Walters.
With The Divine Comedy, he has worked on the album
Foreverland
, and then accompanied the band as a live sound engineer on tour, of which recordings are on the
Loose Canon
album.
He has also worked on the
Office Politics
album for the recording sessions at The Menagerie, Neil Hannon's home studio, where he also provided backing vocals and played modular synth.