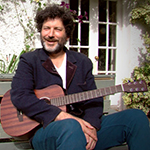 Peter 'Pamf' Ruotolo is a musician originally from San Francisco. He started as a guitarist influenced by blues and hip hop, funk and punk. He joined the band O Mighty Isis in the late 80's. In the early 90's he moved to Ireland where he started the punk funk band Pussy Ass Mother Fuckers (PAMF). In the late 90's he played with bands as Loose Booty or Arborea. In 2005 Pete released his debut album
Prone to Abuse
.
But his connection with The Divine Comedy follows his comeback in 2012, where he played with
Cathy Davey
and Neil Hannon in bars and clubs, before regularly playing at the Electric Picnic festival since then. His backing band, The Pete Pamf Sextette, sometimes features Neil or Cathy.
In 2012, he also took part in
Harry Holler's Hooligans
.
In 2013 he produced the solo album of Rónán Ó Snodaigh (ex-Kila); and more recently he contributed vocals for The Divine Comedy's album
Office Politics
.