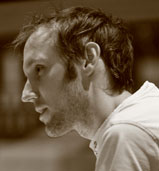 Andrew John Skeet (born 1969 in Croydon) is a British musician, composer and music producer and arranger for the
Millennia Ensemble
. As such he has worked for many contemporary artists including Suede, UNKLE, George Michael, Sinéad O'Connor, Pineapple Thief and of course The Divine Comedy.
Andrew started music very young as a child singer at Glyndebourne Opera, The National Theatre and on film soundtracks including Monty Python's
The Meaning of Life
, Barbra Streisand's
Yentl
and
Another Country
. He then studied composition and piano at The Royal College of Music.
In 2000 with
Jonathan Brigden
and Luke 'Spacer' Gordon (known as being Howie B's collaborator) he set up The Orchestra, a 22 piece classically trained ensemble creating original orchestral based performance developed from collaborations with artists from contemporary, club, hip-hop, electronica and world music. Members of The Orchestra included
Chris Worsey
,
Ian Burdge
,
Lucy Wilkins
, Fiona Brice, and
Tim Weller
. They played various venues and festival including The Royal Festival Hall and the Fontanone Festival in Rome, and collaborated with many people including
Joby Talbot
and Spacer. The Orchestra released an album
Look Away Now
in 2002 on Drummond Street Records (SDT001).

In 2004, with the
Millennia Ensemble
, he began touring with The Divine Comedy as a pianist and musical director. He subsequently toured as a keyboard player in the regular band line-up until 2008, and then since 2014. Andrew has been the musical director of The Divine Comedy on
Victory For The Comic Muse
and
Bang Goes The Knighthood
for which he did all the arrangements. He also contributed to other Neil Hannon projects including
Swallows And Amazons
,
Sevastopol
and
In May
, or
The Duckworth Lewis Method
, and
Joby Talbot
's soundtrack musics (
The League Of Gentlemen Apocalypse
).
Andrew and Luke Gordon have also established their music production company Roxbury Music for British television. Their music have been used for many programmes such as
The Apprentice
,
Dispatches
,
Banged Up Abroad
. They also collaborated with Mike Figgis for the London Film Festival. Some of their music have been released on a series of library albums for Universal (The Atmosphere, Chappell and Bruton labels).
Andrew has also orchestrated and conducted with Daniel Pemberton scores for many TV & film productions including
Desperate Romantics
,
Upstairs Downstairs
and
The Awakening
, and wrote the score for the 2012-film
How to Re-Establish a Vodka Empire
.


Recently Andrew Skeet has produced albums with the London Philharmonic Orchestra of video game music:
The Greatest Video Game Music
(2011) and
Greatest Video Game Music (vol. 2)
(2012). Those albums also feature regular Divine Comedy members
Tim Weller
and
Simon Little
. He also composed with Anthony Phillips the album
Seventh Heaven
(2012), and released in 2015 he first solo album
Finding Time
.


More recently, in 2018, Andrew has also contributed as a guest-performer for
Ian Watson
's London Accordion Orchestra for a movie soundtrack concert featuring most of The Divine Comedy as a backing band.
Andrew Skeet's website: http://www.andrewskeet.com/