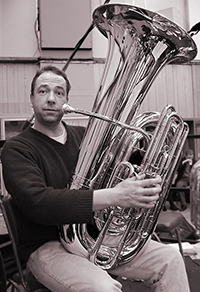 Owen Slade is a tuba player born in Birmingham in 1963. In 1986 he became a member of the London Philharmonic Orchestra. And he is a professor since 1997.
Since 2000 he has also played for many pop or famous musicians, including Joni Mitchell, Robbie Williams, Gilbert O'Sullivan, Hans Zimmer, or Sting.
In 2009 he has played for the album
God Help The Girl
, and he has played for The Divine Comedy on the 2019 album
Office Politics
.