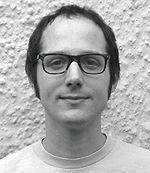 Ivor Talbot (born 19th June 1972) was The Divine Comedy's guitarist from 1996 to 2003.
Like Neil Hannon and
Bryan Mills
he was born in Northern Ireland and went to school at the Portora Royal School in Enniskillen. He was actually in the same class as Bryan, one year below Neil. At that time Ivor was already playing guitar, jamming after class with other pupils. It is said Ivor and Neil already playing together at the time. When music became more serious for them, while Neil was leading
October
, Ivor was playing along with Bryan on
Lady Macbeth
.
When Bryan moved to university in Edinburgh where he met
Nick Munro
and they started their musical partnership (which would become later
The Kittens
), Ivor joined them again to play guitar.
In 1994, Bryan joined The Divine Comedy as a bassist. Probably thanks to him, Ivor was also involved with the band as a roady. Even though he played on the album
Casanova
, he'd join the band on stage only to play a couple of songs. But soon after it was decided that he'd be a full time guitarist for The Divine Comedy.
In 2000 he joined
Joby Talbot
's project
Billiardman
, and played a few shows with them. He also provided guitar for the piece 'Falling' on Joby's debut album
The Dying Swan
.
When, after the album
Regeneration
The Divine Comedy split in 2001, Ivor stayed in the band, touring with Neil Hannon in the US and for a few festivals in Europe. He also contributed to the first recording sessions for
Absent Friends
, but he did not contribute to the final recording. After that he played as a session guitarist with either
Bryan Mills
or
Simon Little
for various Julian Simmons produced projects including Anthony Reynolds, Mougene, A Girl Called Eddy and Benjamin Till. He also played occasionally for Bryan's band,
The Kittens
. In 2006, he joined Neil Hannon again, playing acoustic guitar on Murray Gold's
Doctor Who
songs; he subsequently performed at the
Doctor Who: A Celebration
Children In Need concert on 19 November 2006.
Aside from playing guitar, Ivor composed soundtracks for short dramas and started recording short plays. So, he applied for the National Film and Television School (NFTS) to become a sound recordist. As part of his training, in 2005 he has worked on several films including
The Intimacy of Strangers
,
Vanilla Song
,
Fountain of Youth
and
After
. His recent works include TV series
Chaos at the Chateau
,
Friday Night Dinner
and the music documentaries
Razorlight: Rock and Roll Lies
(2009),
Sounds Like Teen Spirit
(2008) and
Joy Division
(2007). Ivor also works as a sound mixer, as such he has worked on series and films including
The Woman in Black
(2012).
On the personal side, Ivor is married to former Divine Comedy manager,
Maya Gabrielle
.