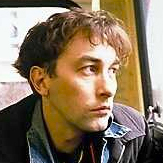 Yann Tiersen is a French musician. With a classical background and punk influences, he started making music early. After the release of his third album, Yann invited several musician for a live show in Rennes, including Neil Hannon who was on the same label in France. Together they performed a version of '
Geronimo
' and a cover of David Bowie's '
Life On Mars
'. The show was recorded for broadcast as a Black Session on France Inter, and subsequently released as a live album.
For his next album
L'Absente
, Neil Hannon was invited again co-write and perform on the song '
Les Jours Tristes
'. At the same time the song was also used for the soundtrack of the movie
Amélie
.
He then returned his favour to Hannon, by playing accordion on a couple of tracks during the recording of
Absent Friends
.
Neil Hannon and Yann Tiersen haven't worked together since. Yann has been since busy on several projects since, composing music for films, and making more rock-oriented records.