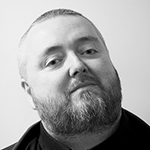 Thomas Walsh (born 9th August 1969) is the lead vocalist and songwriter of
Pugwash
.
With a passion for pop music since his tender youth, Thomas was very active in different fan clubs as a teenager, including the ELO fan-club.
In the late 80's / early 90's he recorded his first demos as The Sepia Circle. Soon after he founded Pugwash and released a few demos. Meanwhile Thomas worked as a guitarist on records and tours with Kim Fowley and Andy White. Following those experiences, Thomas signed
Pugwash
to Vélo Records in 1999. After a few releases Thomas got a name in the Irish scene and many friends including Dave Gregory and Andy Partridge of XTC.
In 2005 he set up with
Daragh Bohan
the label
1969 Records
, on which he subsequently released several Pugwash albums with many guests.
In 2003, at the wedding of their mutual friend
Graham Linehan
, Thomas and Neil Hannon meet up. Despite them not directly keeping in touch with each other after that, Thomas managed to invite Neil a few year later on a
Christmas charity single
. This will be followed by a constant collaboration with Neil Hannon playing on Thomas' records, Thomas playing on Neil's, and both of them founding a new band
The Duckworth Lewis Method
.
The time that followed The Duckworth Lewis Method was a period of change for Thomas. Thomas had to care more of his health and no longer touched a drop of alcohol [1], and also thanks to the Duckworth Lewis Method gained more recognition, including a few words from his hero, Jeff Lynne. This led Thomas to run a new line-up of
Pugwash
with former members of Saville.
As a dedicated musician, Thomas has also played for numerous artists, including Saville (
Somnambular Ballads
, 2003), Paul Bohan (
For Now & Ever
, 2010),
Matt Berry
(video edit of 'So Low', 2011, and
Kill The Wolf
, 2013) or Ken Simpson (
You're No Fun Anymore
EP, 2012).
[1] Irish Sunday Times 16/06/2013