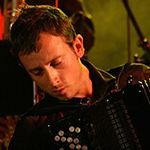 Ian Watson is a professional accordion player. He studied at the Royal Academy of Music. In 1999 he co-founded the Morley Accordion Orchestra (which has became
The London Accordion Orchestra
since) of which he is the musical director.
Ian has worked for many other ensembles including the Scottish Ensemble, the London Sinfonietta, or CHROMA. And he has also played for many bands including Blur, and, of course, The Divine Comedy.
He joined The Divine Comedy in 2004 touring with them as part as a band line-up. He then performed on the album
Victory For The Comic Muse
, and occasionally joined them again live, as during the special shows at
La Cité de la Musique
, in Paris.
After playing for the album
Foreverland
Ian joined the live line-up of The Divine Comedy to perform all their tour dates in 2016-2017, he was then nick-named Squeezy.


In 2018 he bring several members of The Divine Comedy to perform with The London Accordion Orchestra at a movie soundtracks show:
Andrew Skeet
,
Simon Little
,
Tim Weller
,
Tosh Flood
,
Rob Farrer
and
Celine Saout
were all special guests for this show.