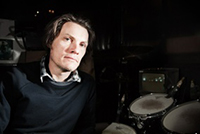 Tim Weller is a professional drummer based in London. He is the drummer of The Divine Comedy since 2003. He joined the band during the recording of
Absent Friends
thanks to his friend
Andrew Skeet
[1], and has since toured with the band, and played on all subsequent albums as well as being a regular member of
The Duckworth Lewis Method
. Tim also played for many other artists including Luke Haines, Black Box Recorder, Sarah Nixey, Duke Special, Noel Gallagher, Marc Almond, David McAlmont.
Tim has also played for classical ensembles including The Orchestra and the London Philharmonic Orchestra for
Andrew Skeet
's
Greatest Video Game Music
. In 2018, Tim has also contributed as a guest-performer for
Ian Watson
's London Accordion Orchestra for a movie soundtrack concert featuring most of The Divine Comedy has a backing band.
Since 2005, Tim also performs on the West End show
Billy Elliot
.
In 2012, Tim set up his own studio in London,
The Drum Shed
.
Tim Weller's website: http://www.timweller.com/

[1] Andrew Skeet Q&A on Classic FM