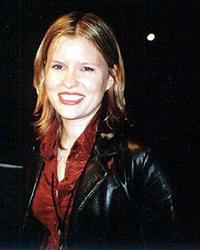 Lucy Wilkins is a violin player and regular member of the
Millennia Ensemble
. As such she has played for many major artists.
She has played with the
Millennia
on tour with The Divine Comedy and on the albums
Victory For The Comic Muse
as well as for the two
Duckworth Lewis Method
album. But she also played as a regular member of The Divine Comedy from 2004 to 2008. Although she hasn't played live with the band after that time, she contributed to the album
Foreverland
.
Lucy has also played or toured for many other artists including Roxy Music or Bryan Ferry,
Andrew Skeet
's The Orchestra, Beth Orton, Tindersticks, Jack, My Life Story, The Frank & Walters...
She is also one of the founders of Wired Strings, a string quartet that has played for Ocean Colour Scene, Paul Weller, Van Morrison, Paloma Faith, Adele and many others.
Lucy Wilkins was also a member of the sextet Speeka, and has written music for the Suspect Culture Theatre Group.