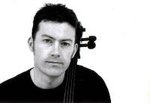 Chris Worsey is The Divine Comedy's regular cellist. He first played with Neil Hannon for the
Liberation
album and subsequently toured with The Divine Comedy. During the recording of
Promenade
he introduced
Joby Talbot
into the band.
After that experience, Chris co-founded
Millennia Strings
with
Ian Burdge
and performed with artists such as The Verve, George Michael, Oasis and Suede. Aside from this, he was also part of the
Brunel Ensemble
and performed on the
Casanova
album.
Although he did not play with The Divine Comedy for a while, he reunited at the time of
Absent Friends
and on tour with the
Millennia Strings
. He still plays for Neil Hannon's most recent albums:
Victory For The Comic Muse
,
The Duckworth Lewis Method
,
Bang Goes The Knighthood
,
Sticky Wickets
,
Foreverland
and often tour with him with different line-up: band, string quartet, etc.