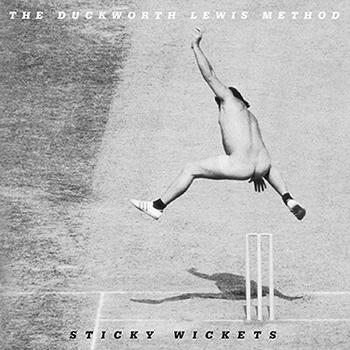 The Duckworth Lewis Method has announced the release of their second album entitled
Sticky Wickets
. It will be released on CD and LP by
Divine Comedy Records
on
Monday 1 July
(and on Friday 28th June in Ireland).
Thomas aka Duckworth said: "Lewis and myself felt it would be at least 20 years before the world would want another 'Duckworth Lewis Method' album. But it rains a lot in Ireland so we revised our prediction of 20 years by using the Duckworth Lewis Method and it turns out we only needed to wait 4 years." Neil aka Lewis added: "It's all Duckworth's fault."
The album features 12 songs written by
Neil Hannon
and
Thomas Walsh
, and recorded in Dublin and London this year with help of guitarist
Tosh Flood
and arrangements by
Andrew Skeet
.
Sticky Wickets
Boom Boom Afridi
It's Just Not Cricket
The Umpire
Third Man
Chin Music
Out In The Middle
Line And Length
The Laughing Cavaliers
Judd's Paradox
Mystery Man
Nudging And Nurdling
Many guests are also expected on the album; rumours have included so far Nelson Bragg, Nick Seymour, Bill Cooper, Dave Gregory (XTC), Matt Berry, Carl Barât, Alexander Armstrong, Chris Addison, Henry Blofeld, David Hepworth, Phill Jupitus and Dermot Magennis.
The first single '
It's Just Not Cricket
' has already been revealed.
The band is scheduled to play a couple of concerts: