In a
previous post
we have discussed the potential material The Divine Comedy could feature as bonuses for anniversary re-issues. While The Divine Comedy is a great musical band, the visual aspects have also always been important: with smart costumes, impressive orchestra, and original music videos. Therefore, the idea of DVD bonus for the albums is an option that we hope the band are considering for future reissues, and so could please the eyes of the fans.
To tease a little, this post is going to review the Divine Comedy's career through the most relevant video documents. Of course, there have been also a lot of TV appearances, especially at the golden age of Britpop where something more or less funny could always happen. Sadly rights for such programs are always a nightmare to deal with, and we are conscious that only a very few could get to be released, therefore only a tiny selection of such programs are going to be mentioned here, despite the historical importance of some appearances in programs like Tops Of The Pop.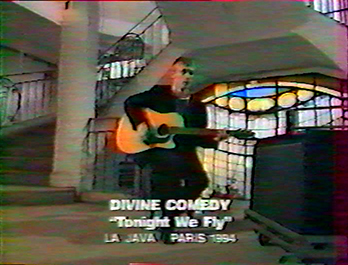 (Please note: the pictures/videos below may not always match the items mentioned)
Office Politics
Well, for sure, none of the DCR albums (the 3 last albums) are likely to be re-released even for an anniversary. A couple of smartly-produced videos are still currently available as webcasts: the
Arte Release Party
, and the
Rockpalast live in Cologne
. Those videos show the band at their best in terms of stage design.
Foreverland
Same as
Office Politics
a lot of webcast were produced during the recent tours, including films of most of the Parisian shows. These videos are often re-broadcast on TV channels or websites, and there would be no point in issuing them on DVD.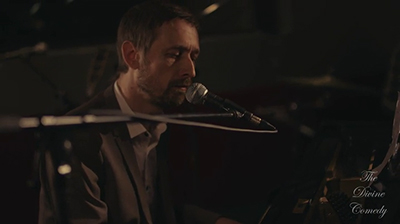 However, there is a little rarity from the time the band was promoting the album that is worth mentioning. On August 18h 2016 the band (not in its usual line-up) recorded a session in Dean Street Studio, London. 3 tracks were made available through the Amazon website but are no longer online now. Only one other still remains on
the Telegraph's website
. But actually 6 songs were recorded, and so potentially 2 videos remain unseen.
Bang Goes The Knighthood
When touring the album, a few festivals appearances were filmed. Such performances include live in Kilkenny, York, Nantes, Vigo and Paris. A show at the Salle Pleyel in July 2010 was filmed by the Cité de la Musique, before they partnered with Arte for such a job, and made available on their website. Mentions of it remains on the Cité de la Musique's catalogue, but that's all.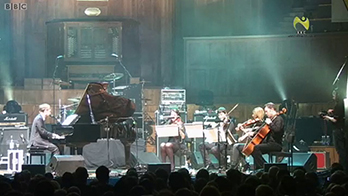 Another interesting webcast was the direct broadcast of the Alzheimer's Society Music Benefit show in Belfast on November 3rd 2011. The whole of
Promenade
was performed with a string quartet and filmed by BBC Northern Ireland to be watched only by UK residents. Later, only 3 songs were made available, and the rest of the film remains unseen.
Victory For The Comic Muse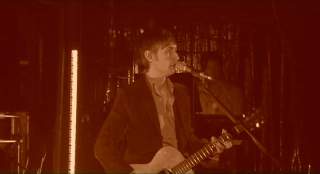 The album
Victory For The Comic Muse
was already released with a bonus DVD featuring an interesting making-of documentary. But let's see what other material was produced after its release.
First of all, to promote the album, a private release party was organised and filmed. It featured the band performing the new album in a music hall, and a few tracks were later available on the band's website (at time before youtube) but no fuzz was made about it. It has been 10 years since those videos have disappeared from the Internet, without anyone noticing then. Such a shame for such a performance!
In 2007, Neil Hannon did one of his most cult TV appearances where he explained how to write an Eurovision song. This is one of the most viewed Divine Comedy video on youtube, but it is an unofficial recording in poor quality.
The idea of Eurovision songs led Neil Hannon to perform special shows at La Cité De La Musique in Paris. Extracts of the 2nd night are to be found as a bonus disc to
Band Goes The Knightwood
, but actually the performance was also filmed. Monitors were exposed in the venue's hall, and a few seconds have been used as introduction to the
EPK of the album
. However, strangely, no record of such a film is listed on the Cité De La Musique's archive. Too bad…
Absent Friends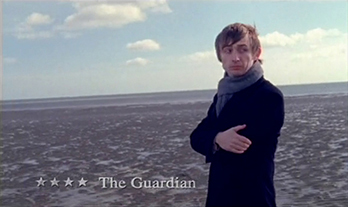 Absent Friends
is a lucky album because its was quickly followed by a DVD release:
Live At The Palladium
. Therefore, we already have a film of a luxurious orchestral show with the Millennia Ensemble. The DVD also includes both music videos for the album: 'Absent Friends' and 'Come Home Billy Bird'. Although it seems that a video trailer was produced for the album, and featured similar footage to the cover of the
Come Home Billy Bird
single, perhaps rushes from a first idea of a music video. Mysterious footage anyway…
But if something different was to be picked-up, let's look-up at some festival appearances that got filmed, in particular the Haldern Festival were the band played with the Niederrhein Ensemble.
Also, there were notable TV performances at Other Voices (late 2004) and Children In Need (late 2003).
Regeneration
The album
Regeneration
was marked with the beginning of the Internet as a mean of promotion. Therefore, many documents were available in those days (long before the HD), and remains almost forgotten nowadays. One of them was a making-of documentary directed by Bryan Mills (the band's bassist back-then). A shortened version was available as a CD-ROM tracks on some bonus discs, but the full version was kept for screenings. Also, a few outtake shots were also put online at the time the band was recording the albums. No recollection of them was made when the band's updated their website.
Additionally, when the band started touring a couple of full shows were filmed. A concert in Portsmouth to target the UK market, and a show in Paris for the French market (and even made it on French TV). Sessions by XFM or OUI FM also got to be filmed and webcast.
In late 2001, Neil and his guitarist Ivor went for an acoustic tour in Spain. Their manager bring with them a digital camera, the idea was to publish some video on The Divine Comedy's website. Finally, none of them were published, and such an original and unexpected tour remains to be seen.
A Secret History
1999 saw the band at their peak of commercial success with the release of
National Express
. This led the band to perform huge venues supporting artists such as Robbie Williams or R.E.M. The performance of The Divine Comedy supporting the latter at the Landsdowne Road Stadium, which was their biggest venue back then, was actually filmed to be webcast on the Setanta's website, which was a novelty in those days. Sadly, because of the lack of technical means, the video had to be put off. If this film was kept in the Setanta's vault, it may now lie in the Divine Comedy Records archive. Let's hope the band will make a good use of it.
Fin de Siècle
Strangely, despite many TV appearances for
Fin de Siècle
, not so many concerts were filmed. A couple of full shows were filmed in France though, including the famous Black Session.
That period of the 90's was also the time were many festivals were filmed to be partly broadcast on UK TV channels.
And last but not least, let's mention that parts of rehearsal were included on a French TV news feature. We can't tell if either they were filmed by the journalist, or provided by the recording company, in that particular case a more complete film shall probably exist.
A Short Album About Love
Without any doubt, the video any fan would like to see is the film of the Shepherd's Bush Empire concert on October 20th 1996 where the band performed the new album in full the day after recording it. It was the first time The Divine Comedy performed with a full orchestra.
A promo video of it was confidentially edited by Setanta Records although it features only the second part of the show, plus a couple of tracks from the first part. Since now technology allows longer films on support, Divine Comedy Records could even release it in its entirety.
Casanova
The period of
Casanova
saw the band doing promotion on a much larger scale. This included the production of music videos. Even though most of music videos have been put on youtube by now, some of them remain to be released such as 'Comme Beaucoup De Messieurs' (of which only a poor TV recording exists on youtube).
This was also the time that Neil Hannon was guest at many programs, often to perform a song, or sometime just to be the funny bloke.
Although more serious TV programs of that time exist, including some from a local TV channel in France, where a 40 minutes full feature on The Divine Comedy was produced and included interviews plus live footages. That sounds incredible, and it may seem getting it released would be a big deal; but let's remember The Undertones recently released a cheap compilation with a DVD of a concert from the French TV archives; if they can do it, sure The Divine Comedy could!
Promenade & Liberation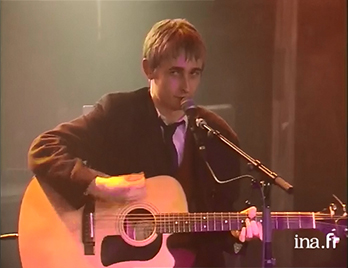 At the time of
Liberation
&
Promenade
The Divine Comedy had a good reception in France, and support from local TV channels. Such footages have been
made available by the French archives
now though.
Additionally, Neil Hannon also had support from RTE for which he performed an acoustic session. The story behind this has been
described by Colm O'Callaghan
and tells us that a music video was also produced for a single broadcast. According to him, the document still lies within the RTE archives.
Apart from that, live performances were sometimes filmed; and such video footages from those days actually exist, such as the Sound Factory event in Bochum, or a concert in Brittany. That particular video has been shared by the band on social media several times, so let's hope they also have had in mind to get in touch with the owner of the video tape, and so not miss the opportunity to get their hands on the full original document, and manage a proper release. Certainly, the fans would love to see more…
To conclude…
… there are quite many video archives the band could get to release more or less easily. Some would need to be negotiated for, and some others would need to be retrieved and sometime even to be restored, and in all cases a lot of researches of information are needed. We do hope the band is committed hard enough to achieve such an interesting project: releasing new and unseen material for the fans.