Venus, Cupid, Folly & Time
has been a major update to the discography of The Divine Comedy! In addition to the listings of all the reissues and the new tracks, some important changes have been brought to the website discography.
For each discographic page the header has now been split in two with the tracklisting on the left, and the formats on the right. For the main releases, the links to the different editions have been moved to that place as well.
More details have been given about the digital formats, which now give clues on where to find the best available quality for any release.
Since a lot of chart information have been added too (archives from the UK Indie charts, Scottish charts), the history tables have now been moved to a pop-up as for the credits.
And as well as the new releases, a lot of more obscure releases have been added, such as Betacam promo videos or BBC transcription CDs…
In a
previous post
we have discussed the potential material The Divine Comedy could feature as bonuses for anniversary re-issues. While The Divine Comedy is a great musical band, the visual aspects have also always been important: with smart costumes, impressive orchestra, and original music videos. Therefore, the idea of DVD bonus for the albums is an option that we hope the band are considering for future reissues, and so could please the eyes of the fans.
To tease a little, this post is going to review the Divine Comedy's career through the most relevant video documents. Of course, there have been also a lot of TV appearances, especially at the golden age of Britpop where something more or less funny could always happen. Sadly rights for such programs are always a nightmare to deal with, and we are conscious that only a very few could get to be released, therefore only a tiny selection of such programs are going to be mentioned here, despite the historical importance of some appearances in programs like Tops Of The Pop.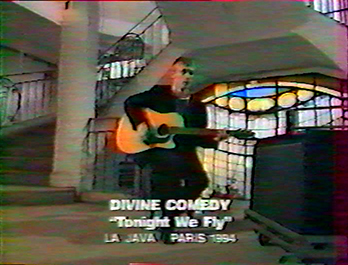 (Please note: the pictures/videos below may not always match the items mentioned)
Office Politics
Well, for sure, none of the DCR albums (the 3 last albums) are likely to be re-released even for an anniversary. A couple of smartly-produced videos are still currently available as webcasts: the
Arte Release Party
, and the
Rockpalast live in Cologne
. Those videos show the band at their best in terms of stage design.
Foreverland
Same as
Office Politics
a lot of webcast were produced during the recent tours, including films of most of the Parisian shows. These videos are often re-broadcast on TV channels or websites, and there would be no point in issuing them on DVD.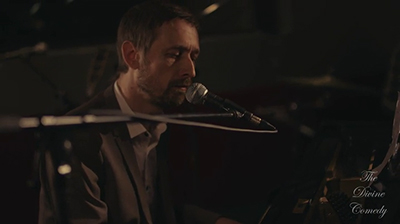 However, there is a little rarity from the time the band was promoting the album that is worth mentioning. On August 18h 2016 the band (not in its usual line-up) recorded a session in Dean Street Studio, London. 3 tracks were made available through the Amazon website but are no longer online now. Only one other still remains on
the Telegraph's website
. But actually 6 songs were recorded, and so potentially 2 videos remain unseen.
Bang Goes The Knighthood
When touring the album, a few festivals appearances were filmed. Such performances include live in Kilkenny, York, Nantes, Vigo and Paris. A show at the Salle Pleyel in July 2010 was filmed by the Cité de la Musique, before they partnered with Arte for such a job, and made available on their website. Mentions of it remains on the Cité de la Musique's catalogue, but that's all.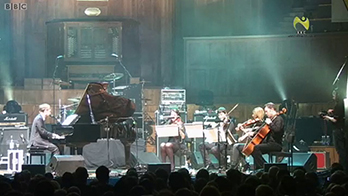 Another interesting webcast was the direct broadcast of the Alzheimer's Society Music Benefit show in Belfast on November 3rd 2011. The whole of
Promenade
was performed with a string quartet and filmed by BBC Northern Ireland to be watched only by UK residents. Later, only 3 songs were made available, and the rest of the film remains unseen.
Victory For The Comic Muse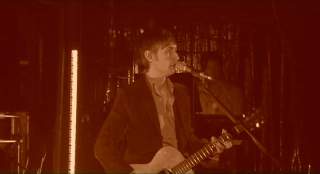 The album
Victory For The Comic Muse
was already released with a bonus DVD featuring an interesting making-of documentary. But let's see what other material was produced after its release.
First of all, to promote the album, a private release party was organised and filmed. It featured the band performing the new album in a music hall, and a few tracks were later available on the band's website (at time before youtube) but no fuzz was made about it. It has been 10 years since those videos have disappeared from the Internet, without anyone noticing then. Such a shame for such a performance!
In 2007, Neil Hannon did one of his most cult TV appearances where he explained how to write an Eurovision song. This is one of the most viewed Divine Comedy video on youtube, but it is an unofficial recording in poor quality.
The idea of Eurovision songs led Neil Hannon to perform special shows at La Cité De La Musique in Paris. Extracts of the 2nd night are to be found as a bonus disc to
Band Goes The Knightwood
, but actually the performance was also filmed. Monitors were exposed in the venue's hall, and a few seconds have been used as introduction to the
EPK of the album
. However, strangely, no record of such a film is listed on the Cité De La Musique's archive. Too bad…
Absent Friends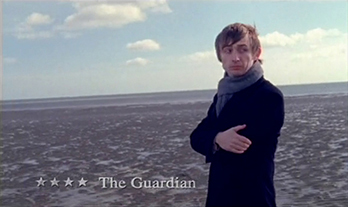 Absent Friends
is a lucky album because its was quickly followed by a DVD release:
Live At The Palladium
. Therefore, we already have a film of a luxurious orchestral show with the Millennia Ensemble. The DVD also includes both music videos for the album: 'Absent Friends' and 'Come Home Billy Bird'. Although it seems that a video trailer was produced for the album, and featured similar footage to the cover of the
Come Home Billy Bird
single, perhaps rushes from a first idea of a music video. Mysterious footage anyway…
But if something different was to be picked-up, let's look-up at some festival appearances that got filmed, in particular the Haldern Festival were the band played with the Niederrhein Ensemble.
Also, there were notable TV performances at Other Voices (late 2004) and Children In Need (late 2003).
Regeneration
The album
Regeneration
was marked with the beginning of the Internet as a mean of promotion. Therefore, many documents were available in those days (long before the HD), and remains almost forgotten nowadays. One of them was a making-of documentary directed by Bryan Mills (the band's bassist back-then). A shortened version was available as a CD-ROM tracks on some bonus discs, but the full version was kept for screenings. Also, a few outtake shots were also put online at the time the band was recording the albums. No recollection of them was made when the band's updated their website.
Additionally, when the band started touring a couple of full shows were filmed. A concert in Portsmouth to target the UK market, and a show in Paris for the French market (and even made it on French TV). Sessions by XFM or OUI FM also got to be filmed and webcast.
In late 2001, Neil and his guitarist Ivor went for an acoustic tour in Spain. Their manager bring with them a digital camera, the idea was to publish some video on The Divine Comedy's website. Finally, none of them were published, and such an original and unexpected tour remains to be seen.
A Secret History
1999 saw the band at their peak of commercial success with the release of
National Express
. This led the band to perform huge venues supporting artists such as Robbie Williams or R.E.M. The performance of The Divine Comedy supporting the latter at the Landsdowne Road Stadium, which was their biggest venue back then, was actually filmed to be webcast on the Setanta's website, which was a novelty in those days. Sadly, because of the lack of technical means, the video had to be put off. If this film was kept in the Setanta's vault, it may now lie in the Divine Comedy Records archive. Let's hope the band will make a good use of it.
Fin de Siècle
Strangely, despite many TV appearances for
Fin de Siècle
, not so many concerts were filmed. A couple of full shows were filmed in France though, including the famous Black Session.
That period of the 90's was also the time were many festivals were filmed to be partly broadcast on UK TV channels.
And last but not least, let's mention that parts of rehearsal were included on a French TV news feature. We can't tell if either they were filmed by the journalist, or provided by the recording company, in that particular case a more complete film shall probably exist.
A Short Album About Love
Without any doubt, the video any fan would like to see is the film of the Shepherd's Bush Empire concert on October 20th 1996 where the band performed the new album in full the day after recording it. It was the first time The Divine Comedy performed with a full orchestra.
A promo video of it was confidentially edited by Setanta Records although it features only the second part of the show, plus a couple of tracks from the first part. Since now technology allows longer films on support, Divine Comedy Records could even release it in its entirety.
Casanova
The period of
Casanova
saw the band doing promotion on a much larger scale. This included the production of music videos. Even though most of music videos have been put on youtube by now, some of them remain to be released such as 'Comme Beaucoup De Messieurs' (of which only a poor TV recording exists on youtube).
This was also the time that Neil Hannon was guest at many programs, often to perform a song, or sometime just to be the funny bloke.
Although more serious TV programs of that time exist, including some from a local TV channel in France, where a 40 minutes full feature on The Divine Comedy was produced and included interviews plus live footages. That sounds incredible, and it may seem getting it released would be a big deal; but let's remember The Undertones recently released a cheap compilation with a DVD of a concert from the French TV archives; if they can do it, sure The Divine Comedy could!
Promenade & Liberation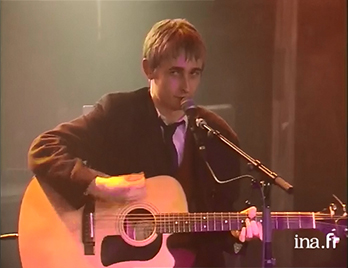 At the time of
Liberation
&
Promenade
The Divine Comedy had a good reception in France, and support from local TV channels. Such footages have been
made available by the French archives
now though.
Additionally, Neil Hannon also had support from RTE for which he performed an acoustic session. The story behind this has been
described by Colm O'Callaghan
and tells us that a music video was also produced for a single broadcast. According to him, the document still lies within the RTE archives.
Apart from that, live performances were sometimes filmed; and such video footages from those days actually exist, such as the Sound Factory event in Bochum, or a concert in Brittany. That particular video has been shared by the band on social media several times, so let's hope they also have had in mind to get in touch with the owner of the video tape, and so not miss the opportunity to get their hands on the full original document, and manage a proper release. Certainly, the fans would love to see more…
To conclude…
… there are quite many video archives the band could get to release more or less easily. Some would need to be negotiated for, and some others would need to be retrieved and sometime even to be restored, and in all cases a lot of researches of information are needed. We do hope the band is committed hard enough to achieve such an interesting project: releasing new and unseen material for the fans.
Happy New Year!
2020 is a new year in the life of The Divine Comedy, and may see the band fully celebrate their 30th year anniversary. Indeed, despite the band was initially formed/named in 1989, they got officially signed to Setanta Records in January 1990 which was the beginning of an amazing career.
Even though we still not know what surprises the band has to offer us for this year, in a few interviews Neil Hannon has hinted that proper re-issues could finally see the light of day, and the man himself have admitted having recently reviewed all of his demo material.
We'd like to take this opportunity then to take a review of the many lost and forgotten gems the band has produced over the past, and will – hopefully – consider for bonus material.
Recent studio material
Stage and screen works
The 2000's
Forgotten tracks from the 90's.
1999: The World Is Not Enough.

In 2012, Neil Hannon admitted he composed a song for James Bond's movie 'The World Is Not Enough' (1999). The song was not considered for the film and it remains unreleased. At that time the song was contractually not to be heard. That was 20 years ago. Since then, Pulp released their try at 'Tomorrow Never Dies' in one of their anthology, so why couldn't the DC?!



1996-1999 Classic B-sides.

Whereas the band actually owns all that back catalogue, and made it available though digital platforms, little (not to say no) concern was given to the B-sides. Most of the Divine Comedy singles are now tracked down by collectors because they show how rich and original the band was, and a large part were even released only on analogue support. The request for B-side compilations have been one of the most reoccurring request (after the request for physical reissues of the albums) on social networks over the last few years.



Instrumental versions.

Instrumental versions are like Proust's Madeleine for fans… They give a new perspective to a familiar song. Many fans, musicians themselves, have asked for release of instrumentals… While most of the albums since the Parlophone era have been leaked in their instrumental forms now, there is only little from the Setanta era. For sure the release of a "Stack-O-Tracks" compilation would please many fans.



1997: Grizzly Knife Attack.

In August 1997 Neil Hannon did a couple of shows with composer Michael Nyman. The collaboration resulted in joined efforts for a new song called 'Grizzly Knife Attack', which was premiered at these shows. Plans for a studio recording and inclusion on a forthcoming Nyman's album were evoked but never happened. Even if a studio recording was not done at the time, highlights from these shows (which included Divine Comedy's covering some of Nyman's works, and Michael Nyman Band covering some of the Divine Comedy classics) would show the Divine Comedy on their orchestral rise.



1996: Christmas With The Hannon's.

In the early days of

Casanova

, The Divine Comedy had a plan for a Christmas single entitled 'Christmas With The Hannon's'. Finally the idea was dropped, and the song has never been heard. Other outtakes from the

Casanova

sessions also included the original studio version of 'I'm All You Need'.



1995: Father Ted.

It's a fact that most of The Divine Comedy's success in UK came thanks to

Father Ted

for which Neil Hannon did the theme music and other incidental music such as 'My Lovely Horse'. While the theme music was re-recorded as 'Songs Of Love' later, the original theme tune (recorded at The Jesus and Mary Chain's studio) has never been properly released; and other songs such as 'The Miracle Is Mine' are yet to be heard in full.



1994: Sean Hughes' poems.

After the release of

Liberation

, The Divine Comedy received support from writer Sean Hughes. The two had a project to set up in music some of Sean's poems… The project was evoked to the columns of Hot Press, but never saw the light of day. Sean sadly left us a couple of years ago, and releasing those sketches could be a way to pay homage to Sean.



1993: Indulgence No.1.

The Indulgences singles are some of the most valuable Divine Comedy EPs, as they are nice 7" records with exclusive material. For sure CD release of that material would be more than welcome. But it also less known that the original plans for the

Indulgence No.1

was to include a cover version of The Ramones' 'Something To Believe In'. It is unsure why the idea was dropped, but according to Keith Cullen, the song was recorded at the time.
Early demos
1992/1993: The Liberation & Promenade demos.

This is certainly the keystone of all The Divine Comedy's career. When Neil Hannon re-conceived what was an indie-trio into a baroque pop project, he locked up in his room and recorded demos over and over until he was satisfied with the result. No doubt there shall be hours of material to heard (assuming it still exists), and even if a double CD would certainly not be enough to cover everything, it would give a panorama over the musical accomplishment Neil Hannon went through over these years.



1991/1992: Europop rehearsals

At the time the early Divine Comedy line-up, with John Allen on vocals, was promoting the

Europop EP

, the band was already playing some early versions of songs that would later be recorded for

Liberation

such as 'Super-Natural' or 'Lucy'. We have no idea if any live or rehearsals were ever recorded; but if such a document exists, it would have a historically important place to play in any anthology as a starting point to The Divine Comedy as we know it.


Earlier material would also be historically interesting wherever they come from. Although it would also be interesting to select it depending on how it connects to Neil Hannon's later works. Some ideas such as 'October' have been seen later within songs like 'Assume The Perpendicular'. Therefore, there is no doubt covering the early years could put the light on some of Neil Hannon's songwriting genius.
To conclude, there is certainly a lot of material to pray for the re-issues. However, since the albums re-issues is mainly what is expected by the fan-base, we are aware the bonus are secondary and no doubt only a tiny little part of all that will get released, but at least it gives us an idea of what to expect. Anyway your opinion matters: don't hesitate to leave to comment to tell us what you would love to hear from all we know that exist.
Next time, we will review the video material that exists too, and what could be fit for bonus DVD if such a thing would ever be considered.

The Divine Comedy have just finished their UK & European tour promoting the album
Office Politics
.
To celebrate this, the
chronology
has been updated with all the details up to the latest Divine Comedy shows. It features all information regarding concerts, radio & TV session and interviews, important events, and even more!
It is the most comprehensive work ever done about Neil Hannon's musical career covering everything he has done with The Divine Comedy and The Duckworth Lewis Method. More than 1400 entries have been added and documented to cover the latest decade. Actually, in the early 2010's updating the DC chronology hasn't been a priority since social media were providing timelines with a history of events. However, the ephemeral aspect of the online information has proven today the importance of such an independent archival project.
A few months ago I was asked by a famous French music mag to answer a questionnaire for a series of articles on dedicated fans, with a focus on record collecting.
Finally the subject was dropped and instead of getting all these answers lost, publishing this Q&A here is the opportunity to share the ins and outs of my passion.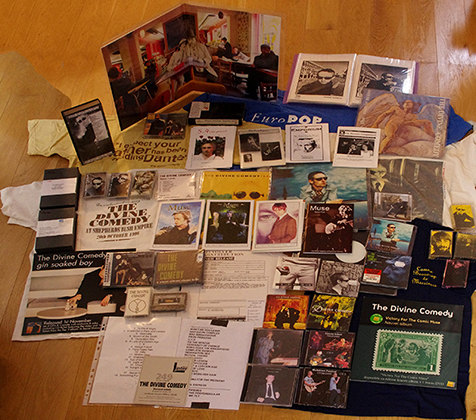 What actually made you start a collection?
I always had a thing for collection. Generally, I like to collect records from bands I like, and when I really like them I tend to be a completist.
In the particular case of TDC for me, there are two aspects. For the official releases, doing the site where everything gets documented helps me to maintain the collection.
Then, when we are fan of an artist, we seek to discover the most unexpected and interesting things (demos, special performances, etc.). Every concert is different, and may have something special.
But, on the unofficial recordings, there is also an aim also to preserve a heritage, and so to get my hands the most of the recordings to get them properly restored.
What was the first item you bought?
The album
Liberation
in 1999 a couple of months after I got into the band. But I'd say the collection really started with the
Secret History
limited edition in late 1999. A compilation of demo and live tracks, which really gives the curiosity to look for more, and so to seek for the complete recordings.
What are the latest items you bought?
A Russian bootleg of
Office Politics
. Also an instrumental CD-R of
Absent Friends
, and a French cassette edition of
Casanova
. I was looking for that one for more than 10 years without any proof it actually existed. It does!
Recently I also managed to get my hands on live recordings of all the show DC did in my former hometown, including some masters that never circulated and which I managed to restore in good condition.
Even though size does not matter, how much place does it take?
There is a big CD flightcase, but I need another one for all the recent Divine Comedy Records CDs. Then there is another flightcase for the LPs, one for the 45s, and a case for the official cassettes. And then, I've got many magazines, newspapers, bootlegs, photo albums… and everything gets digitized with high end equipments.
Plus a lot of information grabbed from the Internet, so it takes more than 1Tb of data. All has a backup on magnetic tapes of course.
How is it organized?
Everything is well protected and put in a place according to its format. The problem is that I got things that went put in different places, such as the cardsleeves and the CDs. And I'd need to do an inventory to no longer have to spend time to look for something when I can't remember where it is supposed to be.
In the computer, there is such an amount of data that it becomes to be an endless task. Sometimes I spend many hours just to look for a bit of information that I vaguely remember from 10 years ago… I'd need some big data processing, haha!
But it's already a big deal to have done all this conservation. The site is a mean to bring to light a part of all that; but there is such a big documentation work to do, it doesn't process as fast as I wish.
Is the main thing the hunt, the quest or to have the disc, the object?
Well, since the aim of the hunt is to have the item, I'd say the main thing is still to finally have it. But I don't just own just to own, but it's also part of a documentation process. I am always in quest for documents. Looking up eBay or discogs is only a background tasks. There are many people with who I am in contact with, or try to get in touch, to find some archives. That could be anything: audio, videos, photos, press articles.
Every find is a victory, but as long as there is still the fin, the quest is not completed. However, the quests lead sometimes to find other things we wouldn't have expected. For example, thanks to a DC fan, we have managed to unearth uncirculated material from Led Zeppelin!
And if I get a demo tape for example, that wouldn't just to say "I have an ultra-rare recording from Neil Hannon in 1989, it's an old tape and it's rubbish, hahaha!". No, I'd take the chance to restore the recording in the best conditions, and respect the music for the place it takes in the band's history.
Some of them can be
found on the Internet
indirectly thanks to me. However I wouldn't put all my archives for download, in case you ask. But everything I have is documented on the site, people can get in touch; and most of private collectors don't do this, they stay vague about what they have, and don't necessarily manage to get things digitally restored. I am always open to discussion. So it is important that people get to know what I am doing, and I
try to explain
.
The most beautiful story related to the collection (eg. finding an incredible item in the depths of an empty garage sale, meeting people through the collection, etc.)
I have met many good people thanks to the collection.
In the miraculous finds: finding an original copy of
La Cigale
for bargain!
And also I had this dream long time ago, I'd find in an obscure record shop in Paris cassettes of French concerts by the band. This dream finally came true many years later, I went to a record shop owned by a fan from the early years, we discussed and he got into his back shop to dig out recordings he did of the 3 Parisian shows from 1996; which I managed to restore.
And the worse?
That the band (or their management) got into the fashion of selling 'unique recordings', put up for sale for 50£ for just one demo track. For
Foreverland
, there was about 50 disc sold to different people. This was to create a buzz, and make some easy money on the fans, but it is rather insane. Releasing a triple CD-R album of all those demos would have made more sales (according to the fanbase's size), and for the same price it wouldn't have sound unfair.
They definitely crossed the line where the music became less important to the ego of their audience; people were satisfied of having something unique made for them, more than the song itself.
Has internet facilitated the collection or did it ruined everything?
Mainly helped. Most of the rare items come from outside France, and eBay really helped to find them.
Sadly the general use of computers did some harm because a lot of documents have been badly digitized. And youtube has made thing even worse! Some people believe they can digitize a VHS by filming the TV screen with a smartphone and upload this onto youtube! However, Internet helps to find contacts as well, and make researches that wouldn't have been possible otherwise.
I was unfortunately too young to be there during the days of the fanzines. There was always a bigger respect to the fanzines editors/writers, since they were doing a proper physical object; while in those days it was considered 'easy' to do a home page.
Also, when I started the site, the Internet was different, and was much more about sharing the information, and I decided to stuck into that way; but it never get rewarded since nowadays, that's the social networks that are in the air; and those who play to the gamification get the advantage. You can't imagine in the 90's someone publishing a fanzine full of selfies… but that's what happens now. On the other hand, I don't want to show myself, here I want to talk about the band not about me. But this has become more of a disadvantage.
Can we be friend with another collector of the same band?
Of course, as long as there is a positive communication, and some exchanges. If each other just want to show how big their collections are, it is not interesting.
Unfortunately – and that's true for every band – there is a lot of competitions between fans. Not much sharing; or sometime generosity in disguise: if someone finds a rare item, it is likely that he'd just share a photo taken with a smartphone, instead of a 300dpi scan.
Some take the excuse of some ethic to not give access to some content but that's bullshit – I mean their excuse are usually based on sophisms (for example the early stuff shall not be shared because Neil says they are not good; which means it makes no sense for commercial release, not that we'd be stabbed to death if we listen to it). If you're a friend, and know how much it counts for me, friendship shall come before a so-called ethic. As a result, the story is always the same: opportunities get missed, time passes and things get lost. When that happens, I can't see myself smiling at these people: "you're a good fan".
The Holy Grail, the item not found yet?
In the official items, there are still test-prints, instrumental CDs that are to be found.
After that, there are still many un-official recordings that exist but do not circulate. For example the shows with Michael Nyman in 1997, I know at least one recording exist… Or the complete recording of the Dublin Olympia '94 solo show, it uses to circulate!
But the real Holy Grail would be the
Liberation
demos since they were the turning point between the early rock days and the pop days. I know that some people close to the label got to listen to them.
There are also video of the days before The Divine Comedy, but they never circulated. Does this material still lies somewhere in Ireland? Mystery…
Are you able to admit that at one point your loved artist was less good, disappointing?
Of course. In the recent years, Neil Hannon has sometime been less audacious than his beginnings. But I think he still got the same talent, and the latest albums showed he could still surprise us!
And I don't doubt that he'll have more and more recognition over the years.
Has this collection given birth to any others?
I have got other collections. Some are with linked artists, such as Duke Special, Matt Berry or Anthony Reynolds. Also on other unrelated artists, but it's a different story. However, for none of them I have been socially involved in the fan circles; but I can be involved in different ways, it also depends of the band too (if it's a band from the past, or even defunct). I probably won't do any other website though, just writings for my own self, 'cause experience has shown me that such expression, when not aimed to promote, is not well-considered.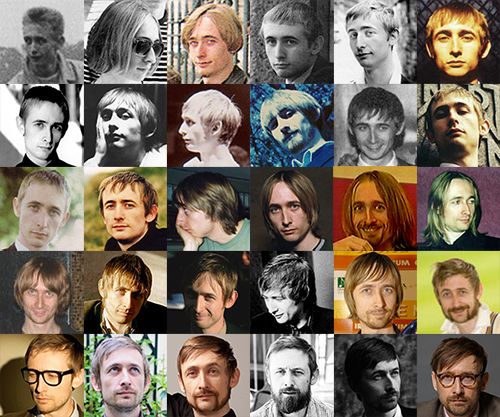 30 years ago a young teenager in Northern Ireland had just left school where he mainly spent his day dreaming about being a pop star. He'd come up with a rock band, call it
The Divine Comedy
without knowing what it meant… A few decades later he has become an accomplished musician and songwriter, and the name The Divine Comedy has been associated with many styles.
To celebrate the 30 years of Neil Hannon's prolific works,
a short site
will offer many updates on The Divine Comedy's career, retrospective analysis, and discuss on what may happen for the anniversary.
To start with, the
discography
is now up-to-date with the recent releases, including the latest album
Office Politics
and its complete charts positions, as well as all the
recent compilations
and
covers
published by various artists and labels.
Unfortunately most of the recent lyrics haven't been added onto the site yet. This is actually pure laziness and there is no good excuse to justify, but we remind that
a short site
is a collaborative website where anyone can contribute.
On the other hand, the
Tabs and Score section
has been updated following the recent shutdown of the TDCmusic.co.uk website (Richard said he was okay with his works being hosted since he stopped maintaining his site 10 years ago).
Last but not least, the band's
biography
has been revised, to sum up what Neil Hannon has been up over the recent years, as well as all the information on the
collaborators
featured on the latest Divine Comedy albums.
While a new Divine Comedy album is on its way,
a short site
has been updated with some little additions.
As always the
chronology
has been improved, and the
discography
completed; some
biographies
have been updated, and a few
press articles
have been added…
Also, we had a technical problem with registration e-mails not being sent to users of t-online.de. This issue has now been solved; and for anyone who tried to register, the activation e-mail shall be delivered by now (it can also be requested again via the registration page).
With the New Year coming in, it is time to sum up the various updates that have been done to
a short site
over the last few months.
First of all, the
chrononlogy
from the beginning to 1996 has been completely reviewed. It is now more accurate with the complete tour dates in France for the
Liberation
and
Promenade
tours; and some testimonies.
The
commissioned works
have been updated, including some soundtrack for Irish and British television series.
The list of
cover versions
has also been completed with releases from bandcamp, as well as a couple of 2014 albums.
And the
compilations
list has been updated with many more releases from 1990 to December 2014.
We try to add the maximum of information for each release, or event. However, it is a slow task to do so; and we remind that it is possible to any visitor of the site to contribute, complete or correct the website by clicking on the
Edit
tab on the top right corner of each page. It is also possible to just leave a comment by clicking on the
Talk
tab.
We wish a happy 2015 with hopefully a comeback of The Divine Comedy to the scene.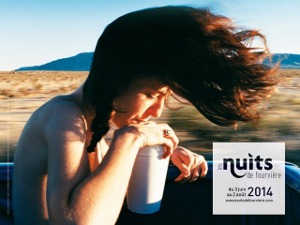 On July 14th,
The Divine Comedy
will opening the stage for
Burt Bacharach
at the
ancient theatre of Lyon
as part of the
Nuits de Fourvière
.
On this occasion,
a short site
offers
5 pairs of tickets
for this special evening.
To enter, all you need to do is to answer those two questions:
Which hit composed by Burt Bacharach and Hal David was covered by The Divine Comedy in 1996?

Which other classic track, still written by Burt Bacharach and Hal David, was also covered by The Divine Comedy with Ben Folds during a shared tour?
We will select
5 winners from the correct answers
submitted before
July 11th
to this address:
concours@ashortsite.com
. Please include your first and last names, and we will contact the winners on July 12th.
Good luck!
Important information:
the winners will have to collect the tickets at the Théâtre de Fourvière, on July 14th at the opening hour,
18:00
(local time), a photo identification may be required.
a short site and Nuits de Fourvière won't cover any additional cost related to the competition (transport, hotel, …). If the event is cancelled for reasons beyond our control, a short site and Nuits de Fourvière won't give any compensation prize.
Following the recent release of
The Duckworth Lewis Method
's
Sticky Wickets
, we have updated the biographies, discographies and lyrics with the new album and its two singles as well as recent side-projects.
The
discography
has been re-conceived and shall bring you the information more efficiently. All credit notes of the discography have also been corrected and completed; now for most of the musicians you'll be able to find detailed biographies.
A list of
all the personnel
who has been involved or collaborated with The Divine Comedy is also available, and will bring you a comprehensive overview of all the significant histories related to the band as well as the links between them.
And, last but not least, piano scores for '
Assume The Perpendicular
' and '
Going Downhill Fast
' (solo) have been added, in PDF and MIDI formats.