19/02/2014, NEIL HANNON : THE DIVINE COMEDY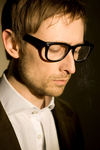 20 septembre 2010. 17h. Paris 18e. La Cigale. Dans une loge artiste terne et dépeuplée. Lui (bruit d'un cadeau qu'on déballe) : « Ouch ! » Moi : «
18/02/2014, The Cave of Curiosities - Demo of "So Long and Thanks for all the Fish" by Joby Talbot

This is the original demo of the song which later appeared in the film Hitchhiker's Guide to the Galaxy. Hilary Summers sings all vocals and the composer, Jo...
02/02/2014, FEE DU JOLI (NIGEL GODRICH)

« Regeneration était un disque compliqué, m'a-t-il dit 9 ans plus tard. J'ai essayé de faire un truc et ça n'a pas vraiment marché… Je veux dire j'ai aimé traîner avec Nigel, c'est un bon ami, et j'ai aimé faire l'album avec lui, c'est moi qui lui avait demandé et heureusement ça l'intéressait mais ...