26/12/2015, "Dad's Alzheimers forced me to look at my past" (From Impartial Reporter)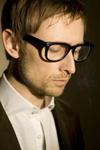 ENNISKILLEN'S Neil Hannon says his cleric father's diagnosis with Alzheimer's Disease seven years ago has forced him to reflect on his past.
15/12/2015, The Divine Comedy - Our Mutual Friend | Into the Popvoid

It's odd how certain pop acts are labelled as being too clever for their own good, with a perception that everything they do somehow comes dripping with a certain amount of irony, designed only for a few select people to get.
02/12/2015, Interview: Neil Hannon, The Divine Comedy - M Magazine M magazine: PRS for Music online magazine - PRS for Music Online Magazine

'The single hardest thing for any pop musician is to stay in any way relevant to contemporary society,' says The Divine Comedy lynchpin Neil Hannon.