The Divine Comedy is Neil Hannon.

Neil Hannon is a singer, lyricist, composer and musician and he produces his records. He also owns his label: Divine Comedy Records. He worked with Tom Jones and Keane, to cite a few, and wrote songs for Ute Lemper or Charlotte Gainsbourg.

Neil Hannon created The Divine Comedy as a indie band in the late 80s. After an album, the band split up shortly. In 1993, Neil Hannon keep the name The Divine Comedy to release Liberation. From that time on, The Divine Comedy was to be a concept led by one man, though sometimes involving many musicians.

In 1996, the single Something For The Weekend, taken from the album Casanova, unexpectedly raised The Divine Comedy up into the British charts.

Neil Hannon claims influence by Electric Light Orchestra, Scott Walker, Jacques Brel, Kurt Weil, U2, REM or even Michael Nyman. Neil's songs are famous for their irony as well as their baroque orchestration and have influenced Rufus Wainwright, Duke Special, The Thrills, and Vincent Delerm and Yann Tiersen in France.

With the turn of the century, The Divine Comedy signed with Parlophone, under which label he released the albums Regeneration and Absent Friends. More recently, after leaving Parlophone, Neil Hannon redefined himself as a solo artist while he is not busy composing for theatre works. He also has enjoyed a new success with his new band The Duckworth Lewis Method co-founded with Irish musician Thomas Walsh.

a short site is an unofficial information database dedicated to the works of Neil Hannon, and partially works as an user-generated resource. Most of the pages are editable, meaning that anybody can easily add new content or improve what's already here, please read the FAQ for more information.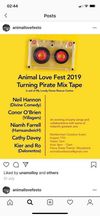 19/08/2019, South Dublin residents outraged after being kept up late by local music festival - Dublin Live
Animal Love Festival featured Neil Hannon, Cathy Davey and Conor O'Brien

18/08/2019, Rock | L'Echo
The Divine Comedy - "Office Politics"
While a new Divine Comedy album is on its way,
a short site
has been updated with some little additions.
As always the
chronology
has been improved, and the
discography
completed; some
biographies
have been updated, and a few
press articles
have been added…
Also, we had a technical problem with registration e-mails not being sent to users of t-online.de. This issue has now been solved; and for anyone who tried to register, the activation e-mail shall be delivered by now (it can also be requested again via the registration page).